Species Profile for Florida scrub-jay (Aphelocoma coerulescens)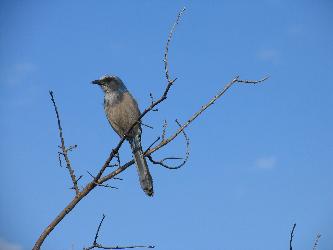 Listing Status:
Where Listed:
WHEREVER FOUND
» Federal Register Documents
» Recovery
» Critical Habitat
No critical habitat rules have been published for the Florida scrub-jay.
» Conservation Plans
HCP Plan Summaries
America's First Home
Athanas, Paul SFL
Atlantis at Tequesta
Aulbach SFL
Balmoral (O.C. Mendes)
Bank, Lawrence
Bigord SFL
Boxer SFL
Brandon Capitol Corp. (Villages of Tramore)
Butler, Eugene HCP
Casa del Sol
Castro, Ivania
Catlow
Cavalear Co. (Cloisters)
Charlotte County Capital Improvement Projects
Charlotte County County-wide Florida Scrub-jay HCP
Charlotte County West County Library
Charlotte Crossing Apartments
Chunilall, Guruday
Church of God by Faith
City of Cape Coral
City of Deltona
City of Palm Bay
Coconut Point Incorporated
David Sime, Single Family, Brevard Co., FL
Deep Creek Batch
Deleta Earle
Deltona Family YMCA
Deltona Retail Holdings, LLC-Deltona Village
Deltona YMCA
Duke Construction Corporation Alden Ave
Duke Construction Corporation--McTavish
Eber Cove
Elliott and Gracia
Famulari SFL 1
Famulari SFL 2
Famulari SFL 3
Famulari SFL 4
Florida Scrub-jay Umbrella
Formosa Homes, Inc.
Founders Ridge, Inc.
Ft. Macaulay Development Co. (Windsor Estates)
Gauthier, Carlos HCP
General Real Estate (Bal Harbor)
Generation Builders
Grande Bay Development
Grimes, Jack
Harbor Heights Fire Station
Henshaw, Bill
Heron's Cove
Hill, Joseph (Coquina Palms)
Hoffman
Home Depot
Howland Boulevard, Deltona
Indian River/Sebastian Areawide
Intoccia
Jacobs, Dorothy
Johns Island Golf Club (58th Avenue Expansion)
Jorden, Debra HCP
Knudsen
Ladd Development Inc.
LaPalma Construction, Inc.
Lavelle SFL
Leonard SFL 1
Leonard SFL 2
Leonard SFL 3
Leonard SFL 4
Leonard SFL 5
Leonard SFL 6
Leonard SFL 7
Leonard SFL 8
Mangrove Bay/Senior Lifestyle Jupiter
Markieh, Ali (Cheltenham & Jupiter)
Markieh, Ali (Cynthia St.)
Maronda Homes-Algardi-Palm Bay
Maronda Homes-Aries-Port St. Johns
Maronda Homes-Campbell-Palm Bay
Maronda Homes-Emerson-Palm Bay
Maronda Homes Inc. of Florida
Maronda Homes-MacKay-Palm Bay
Maronda Homes-Timbruce-Palm Bay
Maronda Homes Wilderness
Marsol Construction Corp. Summer Brook
McShane and Dey HCP
M. Kodsi of Lantana Development (Milford/Martesia Project)
Moren, Robert HCP
Mortgage Management, L.P.
Mosaic Fertilizer, LLC
Mosel, Peter SFL
Mouhot (single family lot)
Nissan, Edward
Nold, Linda B.
Ocean Ridge, Limited
Ocean Shore Estates
On Top of the World (II)
Palmateer
Palm Coast Blue Water and Matanza Shores
Pansulla III, Joseph
Parrish Medical Center
Pauwels, Bertha MFL
Perez SFL
Perron, Jacquelyn SFL
Phidd, Kheino
Pineda Development Corporation
Presley, H.
Results Builders SFL 1
Results Home SFL
Richardson, Michael
Riverside Development Group (Lake Washington Preserve)
RNR Properties (Cypress Creek-Phase I)
Shadow Wood Subdivision
Southern Multicapital Corporation
Steve Therrien
Stone, Dustin
Tamburri, Nicholas SFL
Tapper, W.
The Commons Group, LLC
The Plantation at Leesburg
Thomas, Anthony
Today Homes - 745 Cedar Ave
Today Homes - Estaves
Today Homes - Lezama
Towne Realty Company (Satellite Motel Time Share)
Tropic Vista
Van Brunt SFL
Vincenzo Scorpio
Visually Impaired Persons of Charlotte County
Volusia County DDD School
Volusia County Deltona Library extension
Volusia County Roads
Wal-Mart Corporation
Walz and Company of Sebring (Palm Haven Development)
Waterside Down (Cochran)
Waterside Down (Cochran) Amendment #1 (phase II)
Webster, Edward HCP
Wilson, John and Carmen SFL
Wilson, John and Carmen SFL Permit Extension
Winslow
Woolbright Venture (Howard Scharlin)
» Petitions
» Biological Opinions
» Life History
» Other Resources
NatureServe Explorer Species Reports -- NatureServe Explorer is a source for authoritative conservation information on more than 50,000 plants, animals and ecological communtities of the U.S and Canada. NatureServe Explorer provides in-depth information on rare and endangered species, but includes common plants and animals too. NatureServe Explorer is a product of NatureServe in collaboration with the Natural Heritage Network.
ITIS Reports -- ITIS (the Integrated Taxonomic Information System) is a source for authoritative taxonomic information on plants, animals, fungi, and microbes of North America and the world.
FWS Digital Media Library -- The U.S. Fish and Wildlife Service's National Digital Library is a searchable collection of selected images, historical artifacts, audio clips, publications, and video.