Species Profile for jaguar (Panthera onca)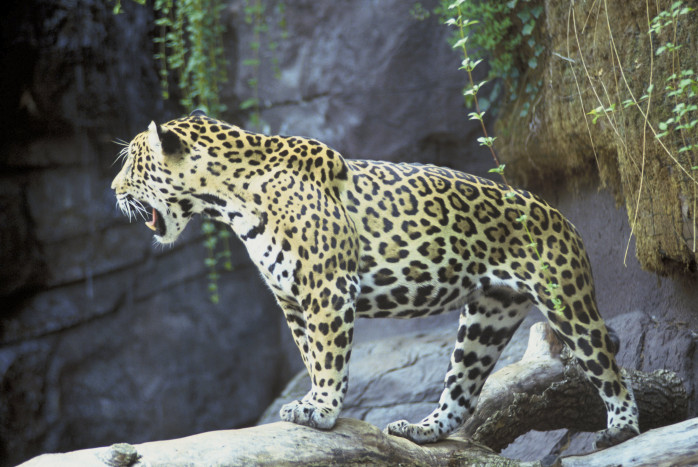 jaguar (Panthera onca)
Listing Status:
Where Listed:
WHEREVER FOUND
General Information
A large, heavy-bodied, big-headed cat. Yellowish to tawny, spotted with black rosettes or rings in horizontal rows along the back and sides; most rings are tan inside, with 1 or 2 black spots. Legs, head, and tail have smaller, solid spots, usually giving way to incomplete bands near the end of the tail.
States/US Territories in which the jaguar, Wherever found is known to or is believed to occur: Arizona , New Mexico
US Counties in which the jaguar, Wherever found is known to or is believed to occur: View All
Countries in which the the jaguar, Wherever found is known to occur: Mexico
» Federal Register Documents
» Recovery
» Critical Habitat
To learn more about critical habitat please see http://ecos.fws.gov/crithab
» Conservation Plans
No conservation plans have been created for jaguar.
» Petitions
» Life History
Habitat Requirements
Found near water in warm, tropical savannas and forests within core of their range. In the northern portion of the range, found in thornscrub, desertscrub, and grasslands. Vegetation communities used in Arizona range from Sonoran desertscrub at lower elevations to sub-alpine mixed conifer in the mountain ranges.
Food Habits
Generalist predator, taking mammals, birds, fish, larger reptiles (turtles and caimans)
Movement / Home Range
Jaguars have relatively large home ranges, the actual size depending on topography, habitat composition, prey base, and population dynamics. Contiguous habitats, or river corridors provide for movement corridors, particularly for dispersing males.
Reproductive Strategy
Within the core of their range, breeding may take place year round. At northern end, likely a spring breeding season exists. Gestation lasts 100 days, and 1-4 (usually 2) cubs are born and stay with their mother for nearly 2 years. Females achieve maturity at age 3, males at age 4. No breeding population is currently known in southern Arizona or New Mexico. The only documented jaguars in recent years have been males.
Other
Jaguars in the United States are likely dispersing males from breeding populations in northern Mexico. Movement corridors are important to maintain; however, human developments may block access to corridors or fragment contiguous habitats needed to sustain a home range. Fences and highways may be particularly damaging for movement corridors.
» Other Resources
NatureServe Explorer Species Reports -- NatureServe Explorer is a source for authoritative conservation information on more than 50,000 plants, animals and ecological communtities of the U.S and Canada. NatureServe Explorer provides in-depth information on rare and endangered species, but includes common plants and animals too. NatureServe Explorer is a product of NatureServe in collaboration with the Natural Heritage Network.
ITIS Reports -- ITIS (the Integrated Taxonomic Information System) is a source for authoritative taxonomic information on plants, animals, fungi, and microbes of North America and the world.
FWS Digital Media Library -- The U.S. Fish and Wildlife Service's National Digital Library is a searchable collection of selected images, historical artifacts, audio clips, publications, and video.