Species Profile for Brown bear (Ursus arctos arctos)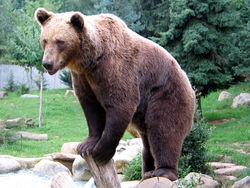 Brown bear (Ursus arctos arctos)
Listing Status:
General Information
Brown bears have furry coats in shades of blonde, brown, black, or a combination of those colors. The longer outer guard hairs of the brown bear are often tipped with white or silver, giving a "grizzled" appearance. Their tail is 4-5 inches (10-13 cm) long.[2] Like all bears, brown bears are plantigrades and can stand up on their hind legs for extended periods of time. Brown bears have a large hump of muscle over their shoulders which distinguishes them from other species.
Countries in which the the Brown bear, Italy is known to occur: Italy
| Status | Date Listed | Lead Region | Where Listed |
| --- | --- | --- | --- |
| | 1976-06-14 | Foreign (Headquarters) | Italy |
» Federal Register Documents
» Recovery
No recovery information is available for the Brown bear.
» Critical Habitat
No critical habitat rules have been published for the Brown bear.
» Conservation Plans
No conservation plans have been created for Brown bear.
» Petitions
» Life History
No Life History information has been entered into this system for this species.
» Other Resources
NatureServe Explorer Species Reports -- NatureServe Explorer is a source for authoritative conservation information on more than 50,000 plants, animals and ecological communtities of the U.S and Canada. NatureServe Explorer provides in-depth information on rare and endangered species, but includes common plants and animals too. NatureServe Explorer is a product of NatureServe in collaboration with the Natural Heritage Network.
ITIS Reports -- ITIS (the Integrated Taxonomic Information System) is a source for authoritative taxonomic information on plants, animals, fungi, and microbes of North America and the world.
FWS Digital Media Library -- The U.S. Fish and Wildlife Service's National Digital Library is a searchable collection of selected images, historical artifacts, audio clips, publications, and video.