Species Profile for Louisiana Black bear (Ursus americanus luteolus)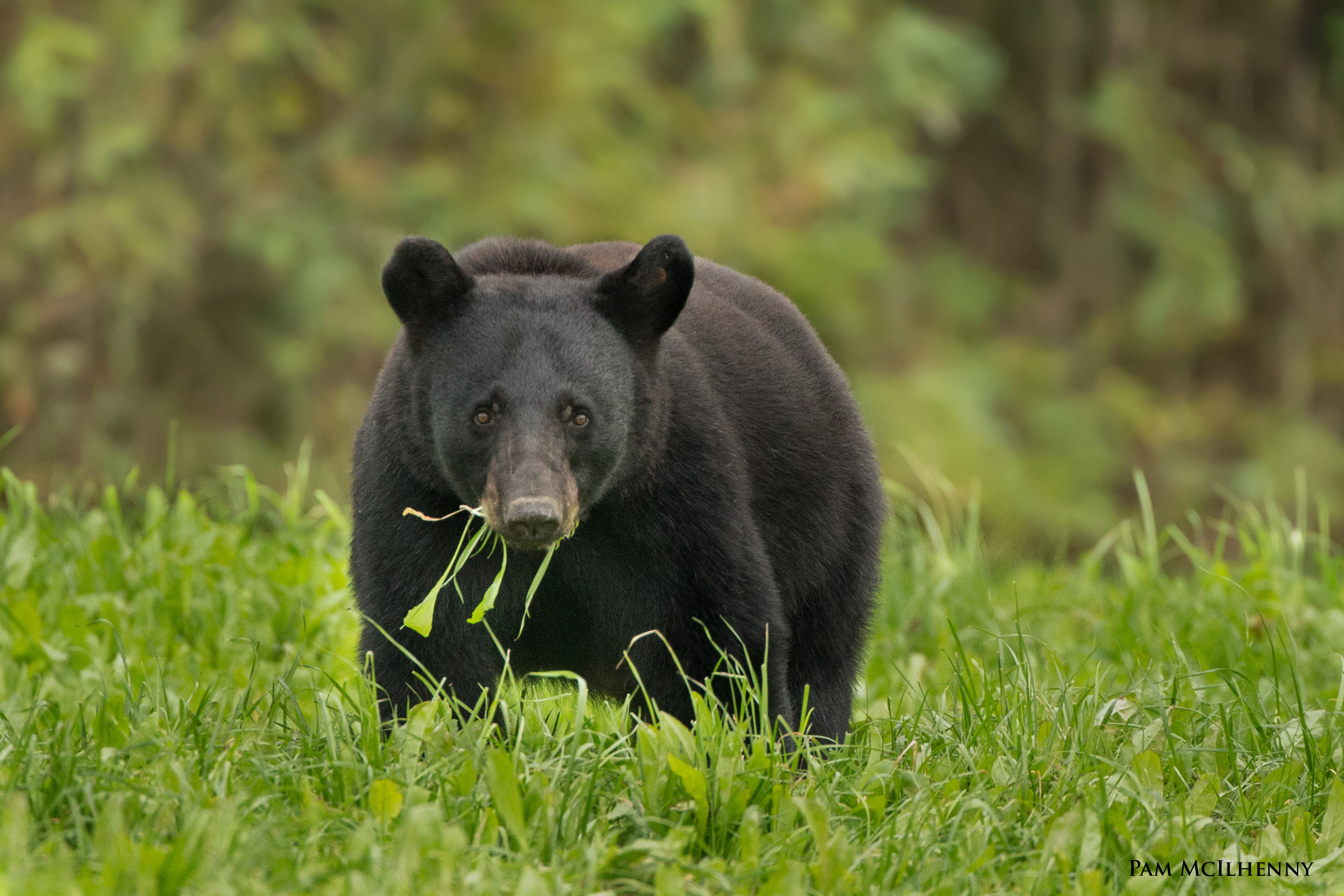 Louisiana Black bear (Ursus americanus luteolus)
Listing Status:
General Information
The Louisiana black bear is one of sixteen recognized subspecies of the American black bear U. americanus (Hall, 1981). The species was formerly widespread in North America, from northern Alaska, including Newfoundland, south to central northern Mexico (Lowrey, 1981). The Louisiana black bear historically occurred from eastern Texas, throughout Louisiana and southwest Mississippi (Hall 1981) and is distinguished from other black bears by possessing a skull that is longer, more narrow, and flat, and by possessing proportionately large molar teeth (Nowak, 1986). The Louisiana black bear is a large, bulky mammal with long, coarse black hair and a short, well-haired tail. The facial profile is blunt, the eyes small, and the nose pad broad with large nostrils. The muzzle is yellowish brown with a white patch sometimes present on the lower throat and chest. Black bears have five toes with short, curved claws on the front and hind feet. The median estimated weight for male and female Louisiana black bears in north Louisiana is 292 lb (133 kg) and 147 lb (67 kg), respectively (Weaver 1999). This is similar to that reported for black bears throughout their range by Pelton (2003).
States/US Territories in which the Louisiana Black bear, Wherever found is known to or is believed to occur: Louisiana , Mississippi , Texas
US Counties in which the Louisiana Black bear, Wherever found is known to or is believed to occur: View All
USFWS Refuges in which the Louisiana Black bear, Wherever found is known to occur: Atchafalaya National Wildlife Refuge, Bayou Cocodrie National Wildlife Refuge, Bayou Teche National Wildlife Refuge, Catahoula National Wildlife Refuge, D'Arbonne National Wildlife Refuge ... Show All Refuges

» Federal Register Documents
» Recovery
» Critical Habitat
To learn more about critical habitat please see http://ecos.fws.gov/crithab
» Conservation Plans
» Petitions
» Life History
Habitat Requirements
Like other black bears, the Louisiana black bear is a habitat generalist. Large tracts of bottomland hardwood (BLH) forest communities having high species and age class diversity can provide for the black bear's life requisites (e.g., escape cover, denning sites, and hard and soft mast supplies) without intensive management (Pelton, 2003). Other habitat types may be used by Louisiana black bears including marsh, upland forested areas, forested spoil areas along bayous, brackish and freshwater marsh, salt domes, and agricultural fields (Nyland, 1995; Weaver, 1999).
Food Habits
Bear activity revolves primarily around the search for food, water, cover, and mates during the breeding season. Though classified as a carnivore by taxonomists, black bears are not active predators and only prey on vertebrates when the opportunity arises; most vertebrates are consumed as carrion (Pelton, 2003). Bears are best described as opportunistic feeders, as they eat almost anything that is available; thus, they are typically omnivorous. Their diet varies seasonally, and includes primarily succulent vegetation during spring, fruits and grains in summer, and hard mast (such as acorns and pecans) during fall. Bears utilize all levels of forest for feeding; they can gather foods from tree tops and vines, but also collect beetles and grubs in fallen logs and rotting wood.
Reproductive Strategy
Average age at first reproduction varies widely across black bear studies; however, most reports involve bears between 3 years and 5 years of age (Weaver 1990). Adult females normally breed every other year (Pelton, 2003). Not all females produce cubs every other winter; reproduction is related to physiological condition (i.e., female bears that do not reach an optimal weight or fat level may not reproduce in a given year) (Rogers 1987). Breeding occurs in summer and the gestation period for black bears is 7 to 8 months. Delayed implantation occurs in the black bear (blastocysts float free in the uterus and do not implant until late November or early December) (Pelton, 2003). Cubs are born in winter dens at the end of January or the beginning of February (Pelton, 2003). The normal litter sizes range from one to four cubs (Laufenberg and Clark 2014). Cubs are altricial (helpless) at birth (Weaver 1990; Pelton, 2003) and generally exit the den site with the female in April or May.
» Other Resources
NatureServe Explorer Species Reports -- NatureServe Explorer is a source for authoritative conservation information on more than 50,000 plants, animals and ecological communtities of the U.S and Canada. NatureServe Explorer provides in-depth information on rare and endangered species, but includes common plants and animals too. NatureServe Explorer is a product of NatureServe in collaboration with the Natural Heritage Network.
ITIS Reports -- ITIS (the Integrated Taxonomic Information System) is a source for authoritative taxonomic information on plants, animals, fungi, and microbes of North America and the world.
FWS Digital Media Library -- The U.S. Fish and Wildlife Service's National Digital Library is a searchable collection of selected images, historical artifacts, audio clips, publications, and video.