Species Profile for Lesser Long-Nosed bat (Leptonycteris curasoae yerbabuenae)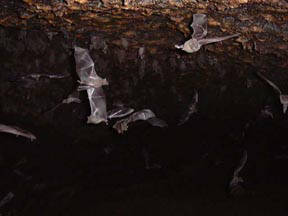 Lesser Long-Nosed bat (Leptonycteris curasoae yerbabuenae)
Listing Status:
Where Listed:
WHEREVER FOUND
General Information
Leptonycteris curasoae is a yellow-brown or cinnamon gray bat, with a total head and body measurement of approximately 3 inches (7.62 cm). The tongue measures approximately the same length as the body. This species also has a small noseleaf. The wingspan of L. curasoae is approximately 10 inches (25 cm) and the mass is roughly 23 g
This population has been proposed for delisting
States/US Territories in which the Lesser Long-Nosed bat, Wherever found is known to or is believed to occur: Arizona , New Mexico
US Counties in which the Lesser Long-Nosed bat, Wherever found is known to or is believed to occur: View All
USFWS Refuges in which the Lesser Long-Nosed bat, Wherever found is known to occur: Cabeza Prieta National Wildlife Refuge, Leslie Canyon National Wildlife Refuge

Countries in which the the Lesser Long-Nosed bat, Wherever found is known to occur: Mexico
» Federal Register Documents
» Recovery
» Critical Habitat
No critical habitat rules have been published for the Lesser Long-Nosed bat.
» Conservation Plans
» Petitions
» Life History
Habitat Requirements
Requires caves and mines for roost sites (maternity, male-only, late-summer, and night roosts are used differently) and access to healthy stands of saguaro cactus and paniculate agaves for foraging. The Sonoran desertscrub vegetation community provides the early summer forage base, with bats found in southwestern Arizona. The semi-desert grassland and oak woodlands provide the late summer agave resources in the southeastern portion of the state
Food Habits
Nectar and pollen from the flowers of the saguaro cactus is the primary food source in the early summer and from the flowers of paniculate agaves in late summer to early fall are the primary food sources. Will use ripe fruits from saguaro and organ pipe cactus.
Movement / Home Range
Bats make considerable seasonal and nightly movements. Migrants from central Mexico arrive in Arizona and adjoining portions of Sonora in April, move from the southwestern part of the state to the southeastern part over the summer, and return to central Mexico by September. Nightly foraging flights may be as much as 30 km from the roost site, and foraging areas are selected based on past and present signs of high resource availability (many cacti or agaves in an area) and utilized over several nights until the pollen and nectar resources are depleted.
Reproductive Strategy
Females arrive already pregnant at maternity roosts in Arizona as early as the second week in April. The single young is born in May. Maternity colonies vary in size, from a few hundred to tens of thousands of females. Males maintain separate colonies during this period.Young bats can fly by the end of June, and the maternity colonies break up by the end of July
Other
Disturbance at occupied roost sites and destruction of roosts during the seasons when bats are not present are significant threats to the species. Large expanses of suitable foraging habitats must be maintained within proximity to roosts to allow for efficient foraging. Fragmentation of foraging habitat, land use changes that eliminate or reduce forage plant populations, or the placement of "barriers" between roosts and foraging areas are also significant and may have adverse effects on the use of roosts in the vicinity.
» Other Resources
NatureServe Explorer Species Reports -- NatureServe Explorer is a source for authoritative conservation information on more than 50,000 plants, animals and ecological communtities of the U.S and Canada. NatureServe Explorer provides in-depth information on rare and endangered species, but includes common plants and animals too. NatureServe Explorer is a product of NatureServe in collaboration with the Natural Heritage Network.
ITIS Reports -- ITIS (the Integrated Taxonomic Information System) is a source for authoritative taxonomic information on plants, animals, fungi, and microbes of North America and the world.
FWS Digital Media Library -- The U.S. Fish and Wildlife Service's National Digital Library is a searchable collection of selected images, historical artifacts, audio clips, publications, and video.