Species Profile for Killer Whale (Orcinus orca)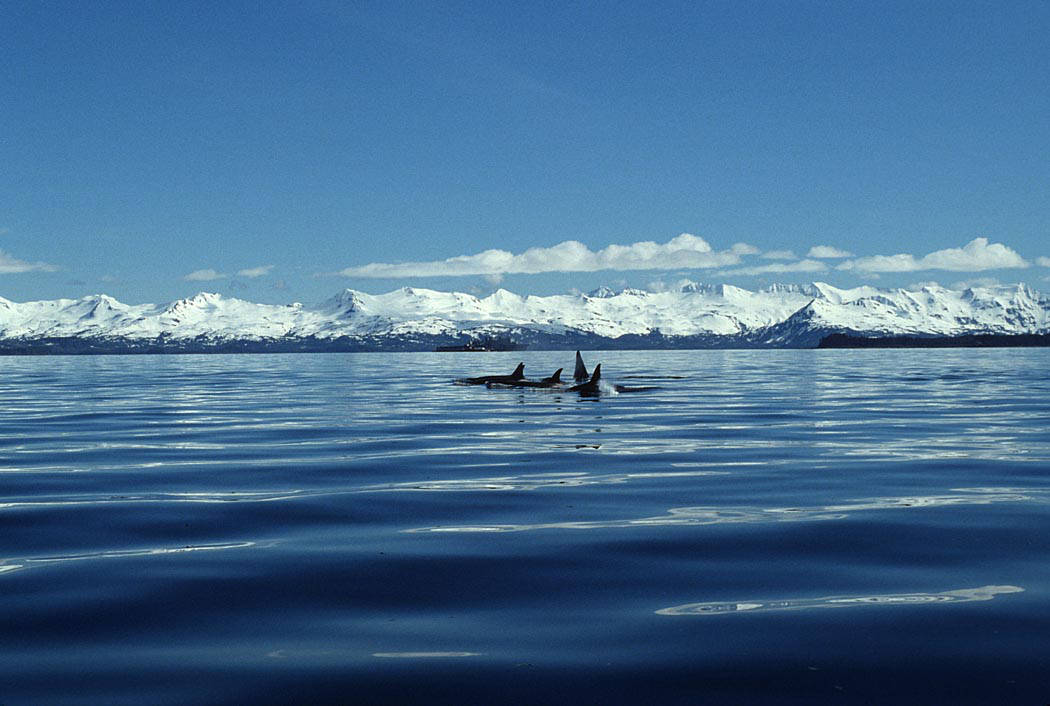 Killer Whale (Orcinus orca)
Listing Status:
General Information
Killer Whales are distinctively marked, with a black back, white chest and sides, and a white patch above and behind the eye. Calves are born with a yellowish or orange tint, which fades to white. Killer Whales have a heavy and stocky body and a large dorsal fin with a dark grey "saddle patch" at the fin's rear. Males can be up to 9.5 m long (31 ft) and weigh in excess of 6 tonnes; it has been reported that especially large males have reached nearer 8 tonnes. Females are smaller, reaching up to 8.5 m (28 ft) and a weight of about 5 tonnes. The longest Killer Whale ever recorded was a male from Washington state, measuring 9.8 m (32 ft). Calves at birth weigh about 180 kg and are about 2.4 m long (8 ft). The Killer Whale's large size and strength make them the fastest marine mammals, often reaching speeds in excess of 56 km/h (35mph).
States/US Territories in which the Killer Whale, Southern Resident DPS is known to or is believed to occur: Washington
US Counties in which the Killer Whale, Southern Resident DPS is known to or is believed to occur: View All
USFWS Refuges in which the Killer Whale, Southern Resident DPS is known to occur: Billy Frank Jr. Nisqually National Wildlife Refuge

» Federal Register Documents
» Recovery
» Critical Habitat
To learn more about critical habitat please see http://ecos.fws.gov/crithab
» Conservation Plans
No conservation plans have been created for Killer Whale.
» Petitions
» Life History
No Life History information has been entered into this system for this species.
» Other Resources
NatureServe Explorer Species Reports -- NatureServe Explorer is a source for authoritative conservation information on more than 50,000 plants, animals and ecological communtities of the U.S and Canada. NatureServe Explorer provides in-depth information on rare and endangered species, but includes common plants and animals too. NatureServe Explorer is a product of NatureServe in collaboration with the Natural Heritage Network.
ITIS Reports -- ITIS (the Integrated Taxonomic Information System) is a source for authoritative taxonomic information on plants, animals, fungi, and microbes of North America and the world.
FWS Digital Media Library -- The U.S. Fish and Wildlife Service's National Digital Library is a searchable collection of selected images, historical artifacts, audio clips, publications, and video.