Species Profile for Cape Sable Seaside sparrow (Ammodramus maritimus mirabilis)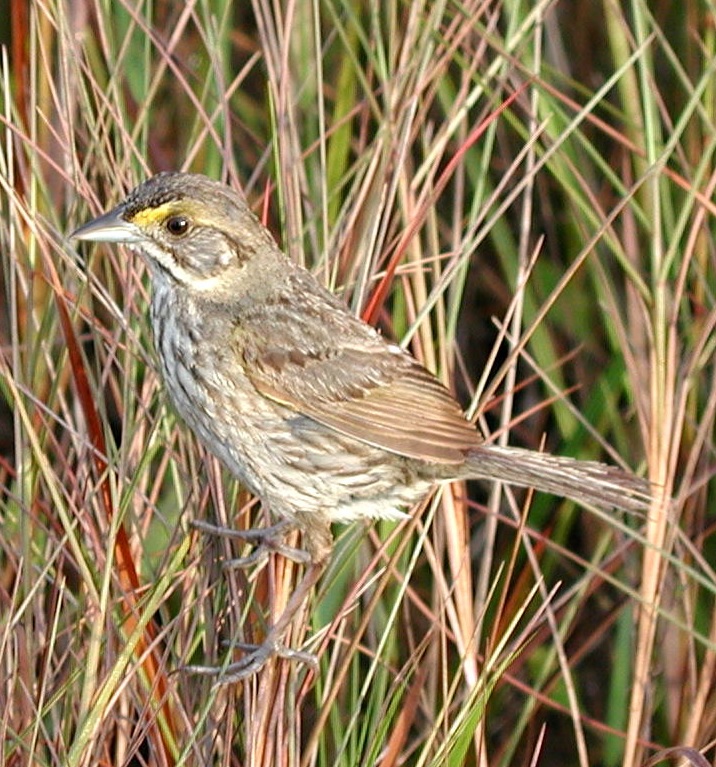 Cape Sable Seaside sparrow (Ammodramus maritimus mirabilis)
Listing Status:
Where Listed:
WHEREVER FOUND
General Information
Cape Sable seaside sparrows are small birds about 13 centimeters or 5 inches long. Dorsally, they are dark olive-gray with olive-brown on the tail and wings. The greenish cast on the nape is generally difficult to detect. Ventrally, adults are light gray to almost white with dark olive-gray streaks on the breast and sides. Occasionally, the breast streaks converge forming a diffuse central spot. There is a dark whisker on either side of the white throat. These sparrows have yellow lores, brown eyes, and a gray ear patch behind the eye which is fringed by a dark line. There is a small patch of yellow on the edge of the wing. No sexual differences in the plumages are obvious.
States/US Territories in which the Cape Sable Seaside sparrow, Wherever found is known to or is believed to occur: Florida
US Counties in which the Cape Sable Seaside sparrow, Wherever found is known to or is believed to occur: View All
» Federal Register Documents
» Recovery
» Critical Habitat
To learn more about critical habitat please see http://ecos.fws.gov/crithab
» Conservation Plans
No conservation plans have been created for Cape Sable Seaside sparrow.
» Petitions
» Life History
No Life History information has been entered into this system for this species.
» Other Resources
NatureServe Explorer Species Reports -- NatureServe Explorer is a source for authoritative conservation information on more than 50,000 plants, animals and ecological communtities of the U.S and Canada. NatureServe Explorer provides in-depth information on rare and endangered species, but includes common plants and animals too. NatureServe Explorer is a product of NatureServe in collaboration with the Natural Heritage Network.
ITIS Reports -- ITIS (the Integrated Taxonomic Information System) is a source for authoritative taxonomic information on plants, animals, fungi, and microbes of North America and the world.
FWS Digital Media Library -- The U.S. Fish and Wildlife Service's National Digital Library is a searchable collection of selected images, historical artifacts, audio clips, publications, and video.