Species Profile for masked bobwhite (Colinus virginianus ssp. ridgwayi)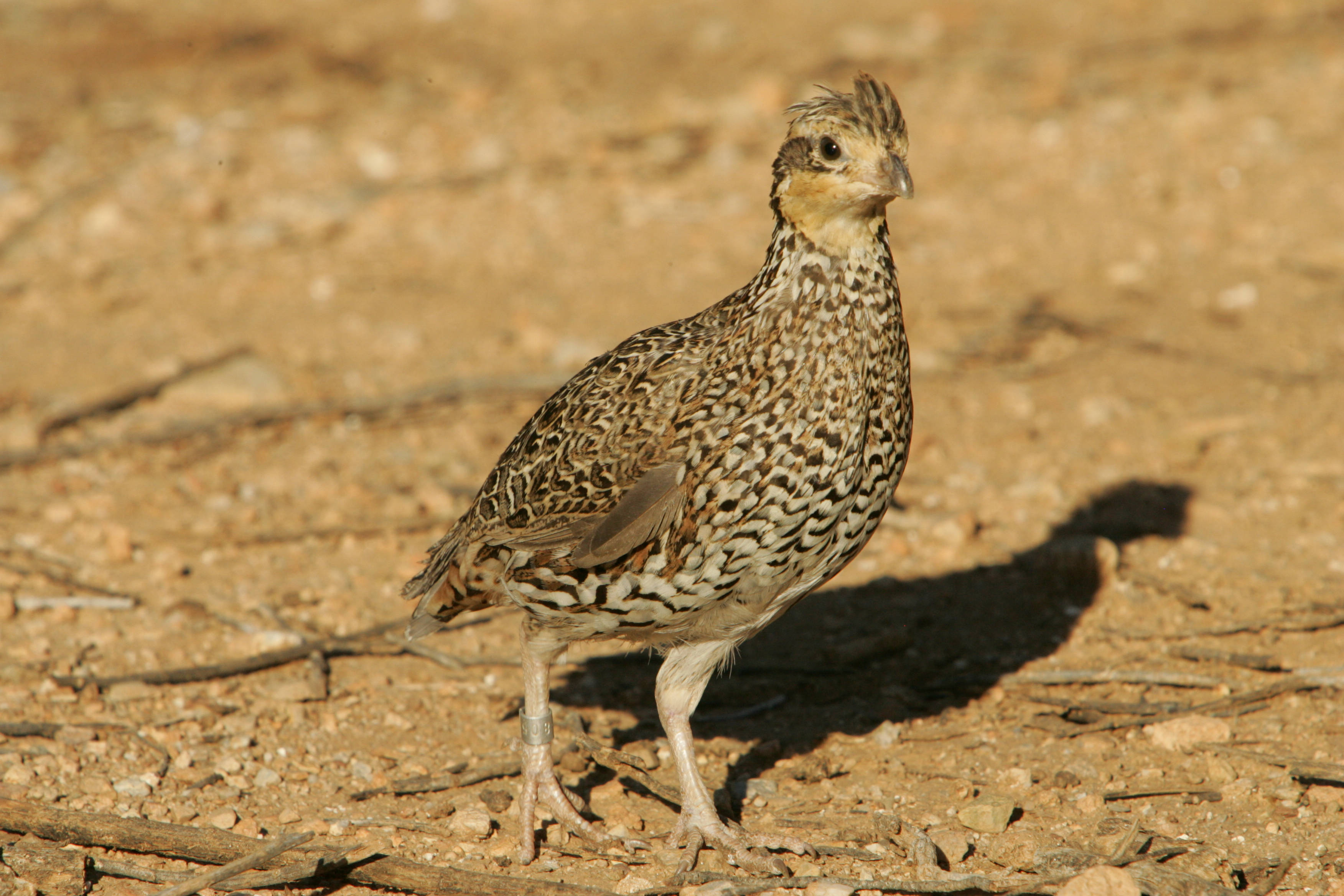 masked bobwhite (Colinus virginianus ssp. ridgwayi)
Listing Status:
Where Listed:
WHEREVER FOUND
General Information
The adult male masked bobwhite has a rich rufous-red (cinnamon) breast and a black head and throat. Some males have a white to yellowish-white superciliary stripe and sometimes touches of white elsewhere on the head. They have crowns mottled with black and rufous. The head plumage tends to become purer black with age. The back feathers are a maze of blacks, browns, rufous and buff, somewhat similar to the back patterns of other bobwhite races. The female plumage is mottled brown, buff and white with a buff throat and superciliary stripe very similar to females of other bobwhite races. It is particularly like the female of C. v. texanus. Female masked bobwhite superficially resemble female and juvenile Montezuma quail, Cyrtonyx montezumae. Guthery (et al. 2000) conducted a study comparing habitats of Texas bobwhites and masked bobwhites in both Arizona and Sonora. Habitat was determined to be similar for both sub-species,but bobwhites in Texas and Arizona preferred areas with 20-100% coverage of woody vegetation while Sonoran birds used areas with 9-46% coverage. Sonoran masked bobwhites selected for higher canopy cover of herbaceous vegetation (34-100%), while Arizona masked bobwhites used areas with 17-100% herbaceous cover. Texas bobwhites used areas with 0-30% herbaceous cover. In another study Guthery et al. (2001b) noted that an acceptable range for a particular habitat component was influenced by other habitat components. For example, in Sonora, the acceptable range for canopy coverage of woody vegetation ranged from 0-60% when all other habitat features were at acceptable values, but constricted (15-40%) when other features were not at acceptable levels. He thereby hypothesized that habitat management could address a deficiency in one habitat variable by managing other variables. Exposure to aerial predators and high temperatures greatly affects habitat selection. Compared to Gambel's and scaled quail, masked bobwhites used patches of vegetation with lower exposure to ground and aerial predators, lower exposure of bare ground and lower operative temperatures (Guthery et al. 2000). By increasing the canopy coverage of brush or its functional equivalent (e.g. tall herbaceous cover) the quantity of usable space would be increased (Guthery 1997) thereby allowing the populations of masked bobwhite to increase (Guthery et al. 2000)
States/US Territories in which the masked bobwhite, Wherever found is known to or is believed to occur: Arizona
US Counties in which the masked bobwhite, Wherever found is known to or is believed to occur: View All
USFWS Refuges in which the masked bobwhite, Wherever found is known to occur: Buenos Aires National Wildlife Refuge

Countries in which the the masked bobwhite, Wherever found is known to occur: Mexico
» Federal Register Documents
» Recovery
» Critical Habitat
No critical habitat rules have been published for the masked bobwhite.
» Conservation Plans
No conservation plans have been created for masked bobwhite.
» Petitions
» Life History
Habitat Requirements
Little is known about the life history, ecology and preferred habitat conditions for masked bobwhites. However, it is well documented that habitat needs for many of the sub-species of Northern bobwhite tend to be similar with respect to vegetation structure, but that plant species compositions throughout the various geographic ranges of these sub-species may vary significantly (Guthery et al. 2000). The basics required are a wide variety of forbs and associated insects for food, grasses of the appropriate density and conformation for nesting, and shrubs for escape cover and thermoregulation. It is assumed, therefore, that plant species preferred by masked bobwhites are indicative of native plants species present in mesic, subtropical Sonoran grassland areas within the historic range of masked bobwhites. In addition to key plant species described above, important native plant species associated with masked bobwhite habitats areas include a wide variety of native forbs, annual and biennial grass, perennial bunch grass, leguminous shrub and tree species. These include ragweed (Ambrosia spp.), rothrock's gramma (Bouteloua rothrockii), Arizona cottontop, cane beardgrass (Bothriochloa barbinodis), vine mesquite (Panicum obtusum), sacaton, blue gramma (Bouteloua gracilis), whiteball acacia, wolf-berry (Lycium spp.), gray-thorn (Zizphus obtusifolia), and desert hackberry (Celtis pallid) (Brown and Ellis 1977, Tomlinson 1972a;1972b; 1984, Wells 2005, Goodwin and Hungerford 1977, Goodwin 1982, Steve McLaughlin pers. com.). While not previously documented, refuge biologists have observed a close association with pen reared and released masked bobwhites and wait-a-minute shrub (Mimosa biuncifera) and Gatuno shrub (Mimosa dysocarpa). It is thought that mimosa shrubs provide an essential winter food from dehisced seeds and needed cover and serve as a segregate to the dense stands of whiteball acacia and bundleflower shrubs found in prime bobwhite habitat areas of Sonora. Nesting cover consists primarily of bunch grasses. Any clump that is "the diameter of a basketball or pie plate" and greater than 8 inches tall is appropriate nesting habitat (Angelo et al. 2005). Bunches should not exceed 500 per acre, the ideal being roughly 300 per acre. Woody cover is as essential as loafing cover for providing protection from predators year round and thermal protection in both winter and summer. Ideal brush cover is between 3 and 10 feet tall and distributed across the landscape. Brush should be dense above and open at ground level. In northern bobwhite regions the Huggins 50:50 Rule is the standard: "A bobwhite should never be more than 50 yards from a clump of brush 50 feet in diameter" (Angelo et al. 2005). Screening cover with bare ground or short ground cover is needed. Nests are normally located within 50-60 feet of openings such as disked strips, roads or fields. Baby quail are unable to fly and need bare ground in order to move. An overstory of weeds and grasses screen the young quail from predators. The growth form of the screening cover is most desirable when it forms dense clumps that provide a closed canopy above the quail and bare ground beneath. The majority of the food for the birds in the fall and winter comes from forb seeds. In addition, forbs attract insects which provide food for young quail. Ground cover should be at least 8 inches tall, but less than 2 ft. tall (Angelo et al. 2005). Interspersion of the various cover types is essential. A standard rule of thumb is to provide all the needed cover types on every acre of land (Angelo et al. 2005)
Reproductive Strategy
Hernandez et al. (2006) discussed the differences between reproduction in masked bobwhites and other subspecies. As a bird that is adapted to a semi-arid environment characterized by pronounced precipitation peaks in late summer, the masked bobwhite initiates breeding much later in the year and experiences a much shorter breeding season than its eastern counterparts. In masked bobwhites, breeding typically commences in June and the season lasts only about 90 days, corresponding to the monsoonal rains. Eastern subspecies initiate breeding in March and have approximately 120 days to complete the breeding season. Northern bobwhites, in general, require 47-55 days to lay and incubate their first clutch, and require 20-34 days between clutches (Burger et al. 1995). Mathematically speaking, re-nest attempts by masked bobwhite following nest destruction or abandonment are not likely due to the short duration of monsoon. This significantly reduces the reproductive potential and associated productivity of masked bobwhite as compared to other subspecies bobwhite.
Other
Camou et al. (1998) found that masked bobwhite populations increased in 11 of 13 years when mean summer precipitation was >20 cm (7.9 in.), but declined in 13 of 14 years when mean summer precipitation was <20 cm. High temperatures in combination with dry atmospheric conditions may reduce the amount of thermally suitable habitat (Guthery et al. 2001c) as heat reduces the proportion of bobwhite hens that lay eggs and the proportion of males that produce sperm. Casual observations by BANWR staff of mortalities of captive masked bobwhites held in outdoor pens with varying degrees of cover seem to indicate that there may be a lowered tolerance for extreme cold temperatures. When night-time temperatures drop into the 10 to 20 degree Fahrenheit (F) range (-12 to -7 degree Celsius (C)), or when cold and rainy conditions occur together, birds are sometimes found dead in roost rings. It is not known how this might affect truly wild birds, since the captive birds had limited choices for seeking cover, and wild birds may be able to move out of colder areas into better roost sites.
» Other Resources
NatureServe Explorer Species Reports -- NatureServe Explorer is a source for authoritative conservation information on more than 50,000 plants, animals and ecological communtities of the U.S and Canada. NatureServe Explorer provides in-depth information on rare and endangered species, but includes common plants and animals too. NatureServe Explorer is a product of NatureServe in collaboration with the Natural Heritage Network.
ITIS Reports -- ITIS (the Integrated Taxonomic Information System) is a source for authoritative taxonomic information on plants, animals, fungi, and microbes of North America and the world.
FWS Digital Media Library -- The U.S. Fish and Wildlife Service's National Digital Library is a searchable collection of selected images, historical artifacts, audio clips, publications, and video.