Species Profile for Least tern (Sterna antillarum)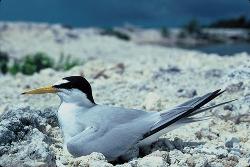 Listing Status:
| Status | Date Listed | Lead Region | Where Listed |
| --- | --- | --- | --- |
| | 05/28/1985 | Southeast Region (Region 4) | U.S.A. (AR, CO, IA, IL, IN, KS, KY, LA_Miss. R. and tribs. N of Baton Rouge, MS_Miss. R., MO, MT, ND, NE, NM, OK, SD, TN, TX_except within 50 miles of coast) Additional species information |
» Federal Register Documents
» Species Status Assessments (SSAs)
» Recovery
» Critical Habitat
No critical habitat rules have been published for the Least tern.
» Conservation Plans
» Petitions
» Biological Opinions
» Life History
» Other Resources
NatureServe Explorer Species Reports -- NatureServe Explorer is a source for authoritative conservation information on more than 50,000 plants, animals and ecological communtities of the U.S and Canada. NatureServe Explorer provides in-depth information on rare and endangered species, but includes common plants and animals too. NatureServe Explorer is a product of NatureServe in collaboration with the Natural Heritage Network.
ITIS Reports -- ITIS (the Integrated Taxonomic Information System) is a source for authoritative taxonomic information on plants, animals, fungi, and microbes of North America and the world.
FWS Digital Media Library -- The U.S. Fish and Wildlife Service's National Digital Library is a searchable collection of selected images, historical artifacts, audio clips, publications, and video.