Species Profile for Least tern (Sterna antillarum)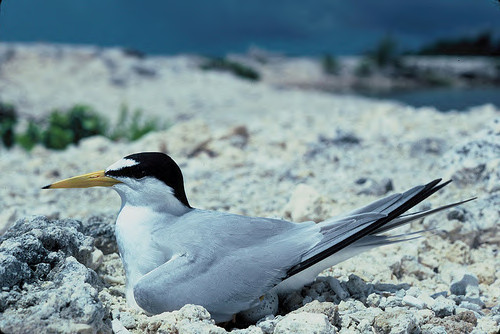 Least tern (Sterna antillarum)
Listing Status:
General Information
Least terns are the smallest member of the gull and tern family. They are approximately 9" in length. Unlike gulls, terns will dive into the water for small fish. The body of least terns is predominately gray and white, with black streaking on the head. Least terns have a forked tail and narrow pointed wings. Least terns less than a year old have less distinctive black streaking on the head and less of a forked tail.
| Status | Date Listed | Lead Region | Where Listed |
| --- | --- | --- | --- |
| | 1985-05-28 | Southeast Region (Region 4) | U.S.A. (AR, CO, IA, IL, IN, KS, KY, LA_Miss. R. and tribs. N of Baton Rouge, MS_Miss. R., MO, MT, ND, NE, NM, OK, SD, TN, TX_except within 50 miles of coast) |
» Federal Register Documents
» Recovery
» Critical Habitat
No critical habitat rules have been published for the Least tern.
» Conservation Plans
» Petitions
» Life History
No Life History information has been entered into this system for this species.
» Other Resources
NatureServe Explorer Species Reports -- NatureServe Explorer is a source for authoritative conservation information on more than 50,000 plants, animals and ecological communtities of the U.S and Canada. NatureServe Explorer provides in-depth information on rare and endangered species, but includes common plants and animals too. NatureServe Explorer is a product of NatureServe in collaboration with the Natural Heritage Network.
ITIS Reports -- ITIS (the Integrated Taxonomic Information System) is a source for authoritative taxonomic information on plants, animals, fungi, and microbes of North America and the world.
FWS Digital Media Library -- The U.S. Fish and Wildlife Service's National Digital Library is a searchable collection of selected images, historical artifacts, audio clips, publications, and video.