Species Profile for White-Necked crow (Corvus leucognaphalus)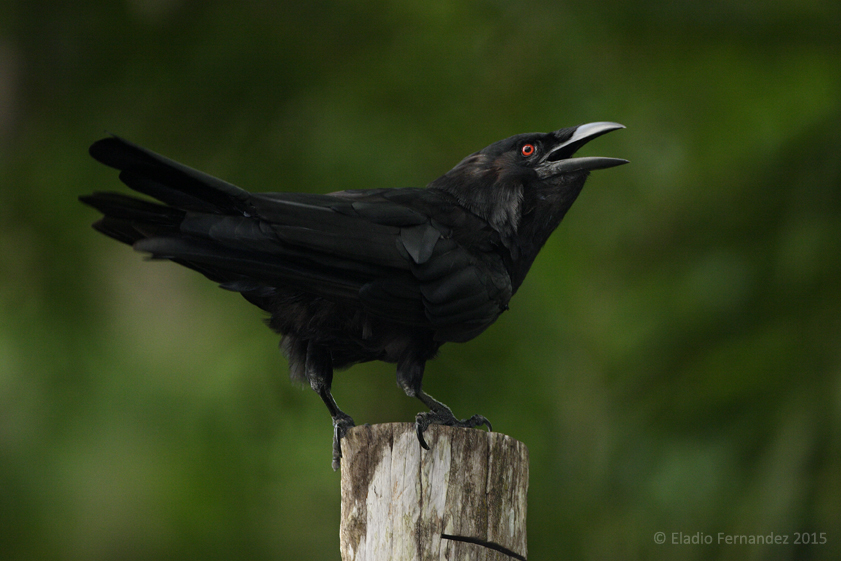 White-Necked crow (Corvus leucognaphalus)
Listing Status:
Where Listed:
WHEREVER FOUND
General Information
The overall appearance is black with a bluish-purple gloss in good light. The black bill is long and deep and curves gently downward to the tip giving the bird a large headed appearance. The nasal bristles do not quite cover the nostrils unlike the majority of species in this genus. There is a patch of dark grey bare skin behind the eye and the base of the lower manidble has a bare strip of the same coloured skin. The iris is a distinctive reddish ochre in colour, and the legs and feet are black.
Countries in which the the White-Necked crow, Wherever found is known to occur: Dominican Republic, Haiti
» Federal Register Documents
» Recovery
» Critical Habitat
No critical habitat rules have been published for the White-Necked crow.
» Conservation Plans
No conservation plans have been created for White-Necked crow.
» Petitions
» Life History
No Life History information has been entered into this system for this species.
» Other Resources
NatureServe Explorer Species Reports -- NatureServe Explorer is a source for authoritative conservation information on more than 50,000 plants, animals and ecological communtities of the U.S and Canada. NatureServe Explorer provides in-depth information on rare and endangered species, but includes common plants and animals too. NatureServe Explorer is a product of NatureServe in collaboration with the Natural Heritage Network.
ITIS Reports -- ITIS (the Integrated Taxonomic Information System) is a source for authoritative taxonomic information on plants, animals, fungi, and microbes of North America and the world.
FWS Digital Media Library -- The U.S. Fish and Wildlife Service's National Digital Library is a searchable collection of selected images, historical artifacts, audio clips, publications, and video.