Species Profile for Trumpeter swan (Cygnus buccinator)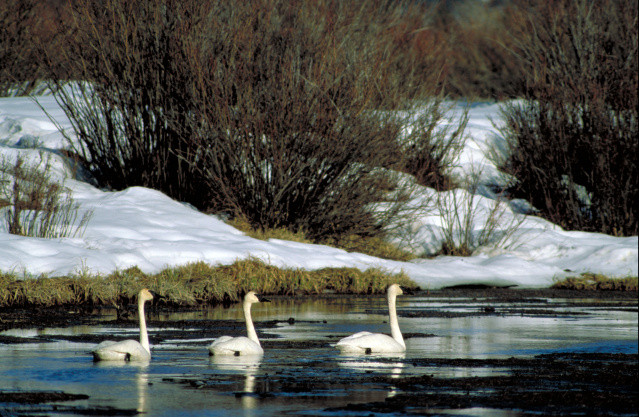 Trumpeter swan (Cygnus buccinator)
Listing Status:

and
General Information
The trumpeter swan is a majestic bird, with snowy white feathers; jet-black bill, feet, and legs; and 8-foot wingspan. At close range, a thin orange-red line can be seen on the lower part of the bill. The trumpeter is often confused with the smaller, more northerly tundra swan, especially where their ranges overlap. The major differences between the two are their size, call, and migration. The trumpeter swan is roughly twice the size of the tundra swan; has a deep, sonorous call; and is either non-migratory or migrates relatively short distances. The tundra swan weighs approximately 15 pounds, has a high whistling call, and migrates long distances between summer and winter ranges.
Population detail
The FWS is currently monitoring the following populations of the Trumpeter swan
Population location: Wherever found

Listing status: Not Listed

Population location: Rocky Mountain Population

Listing status: Status Undefined

USFWS Refuges in which this population is known to occur: Lost Trail National Wildlife Refuge, Northwest Montana Wetland Management District-Flathead County

» Federal Register Documents
» Recovery
No recovery information is available for the Trumpeter swan.
» Critical Habitat
No critical habitat rules have been published for the Trumpeter swan.
» Conservation Plans
No conservation plans have been created for Trumpeter swan.
» Petitions
» Life History
No Life History information has been entered into this system for this species.
» Other Resources
NatureServe Explorer Species Reports -- NatureServe Explorer is a source for authoritative conservation information on more than 50,000 plants, animals and ecological communtities of the U.S and Canada. NatureServe Explorer provides in-depth information on rare and endangered species, but includes common plants and animals too. NatureServe Explorer is a product of NatureServe in collaboration with the Natural Heritage Network.
ITIS Reports -- ITIS (the Integrated Taxonomic Information System) is a source for authoritative taxonomic information on plants, animals, fungi, and microbes of North America and the world.
FWS Digital Media Library -- The U.S. Fish and Wildlife Service's National Digital Library is a searchable collection of selected images, historical artifacts, audio clips, publications, and video.