Species Profile for Black Rail (Laterallus jamaicensis ssp.)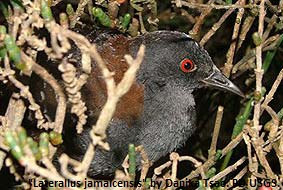 Black Rail (Laterallus jamaicensis ssp.)
Listing Status:
General Information
Adult Black Rails are small blackish marshbirds with a black bill which are difficult to see. Juveniles are similar to adults, but are duller and have less distinct spotting and streaking.
References cited in Species Profile
Cornell Lab of Ornithology. 2015. Black Rail. All About Birds. http://www.allaboutbirds.org/guide/Black_Rail/id
Davidson, L. M. 1992. Black Rail, Laterallus jamaicensis. Pages 119-134 in Migratory nongame birds of management concern in the Northeast. (Schneider, K. J. and D. M. Pence, Eds.) U.S. Fish and Wildl. Serv. Newton Corner, MA.
Eddleman, W. R., R. E. Flores and M. Legare. 1994. Black Rail (Laterallus jamaicensis), The Birds of North America Online (A. Poole, Ed.). Ithaca: Cornell Lab of Ornithology; Retrieved from the Birds of North America Online: http://bna.birds.cornell.edu/bna/species/123
Eddleman, W. R., F. L. Knopf, B. Meanley, F. A. Reid, and R. Zembal. 1988. Conservation of North American rallids. Wilson Bull. 100:458-475.
Evens, J. G., G. W. Page, S. A. Laymon, and R. W. Stallcup. 1991. Distribution, relative abundance, and status of the California Black Rail in western North America. Condor 93:952-966.
Hands, H. M., R. D. Drobney, and M. R. Ryan. 1989. Status of the Black Rail in the northcentral United States. U.S. Fish and Wildl. Serv. Twin Cities, MN.
Kerlinger, P. and D. S. Wiedner. 1990. Vocal behavior and habitat use of Black Rails in south Jersey. Records of New Jersey Birds 16:58-62.
Kerlinger, P. and C. Sutton. 1989. Black Rail in New Jersey. Records of New Jersey Birds 15:22-26.
Mcmullen, T. E. 1944. The Black Rail. Cassinia 34:20-21.
Richmond, O.M., J. Tecklin, and S.R. Beissinger. 2008. Distribution of California Black Rails in the Sierra Nevada foothills. Journal of Ornithology 79:381-390.
Todd, R. L. 1977. Black Rail, Little Black Rail, Black Crake, Farallon Rail (Laterallus jamaicensis). Pages 71-83 in Management of migratory shore and upland game birds in North America. (Sanderson, G. C., Ed.) Intl. Assoc. Fish and Wildl. Agen. Washington, D.C.
Weske, J. S. 1969. An ecological study of the Black Rail in Dorchester County, Maryland.Master's Thesis. Cornell Univ. Ithaca, NY.

States/US Territories in which the Black Rail, Wherever found is known to or is believed to occur: Alabama , Arkansas , Connecticut , Delaware , Florida , Georgia , Illinois , Indiana , Iowa , Kansas , Kentucky , Louisiana , Maryland , Massachusetts , Michigan , Mississippi , Missouri , New Jersey , New York , North Carolina , Ohio , Oklahoma , Pennsylvania , Rhode Island , South Carolina , Tennessee , Texas , Virginia , West Virginia
US Counties in which the Black Rail, Wherever found is known to or is believed to occur: View All

» Candidate Information

» Federal Register Documents

» Conservation Plans

No conservation plans have been created for Black Rail.

» Petitions

» Life History

Habitat Requirements

The Black Rail resides in marsh areas, so the substrate of ideal habitat is moist soil with scattered small pools and dense emergent vegetation.

Food Habits

The Black Rail eats small invertebrates and seeds. Their bill shape suggests they use generalized feeding methods such as gleaning or pecking at individual items.

Movement / Home Range

Black rail breeding occurs along the U.S. Atlantic coast from Connecticut to south Florida, in addition to disjointed occurrences along the coasts of Central America and California. Also, a resident population exists among the foothills of the west slope of the Sierra Nevada range in California. There is little known about spring and fall migration as well as wintering distribution, but it is presumed to be similar to breeding habitat.

Reproductive Strategy

Nests in high portions of salt marshes, shallow freshwater marshes, wet meadows, and flooded grassy vegetation.

Other

Black Rails are impacted largely by the degradation of suitable wetland habitat. The altering of water regimes on the East coast has allowed the common reed (Phragmites australis) to invade higher sections of salt marshes and degrade Black Rail habitat. There is little baseline information to estimate population trends. Coastal populations likely declined between the 1920s and 1970s before enaction of laws protecting coastal wetlands.

» Other Resources

NatureServe Explorer Species Reports -- NatureServe Explorer is a source for authoritative conservation information on more than 50,000 plants, animals and ecological communtities of the U.S and Canada. NatureServe Explorer provides in-depth information on rare and endangered species, but includes common plants and animals too. NatureServe Explorer is a product of NatureServe in collaboration with the Natural Heritage Network.

ITIS Reports -- ITIS (the Integrated Taxonomic Information System) is a source for authoritative taxonomic information on plants, animals, fungi, and microbes of North America and the world.

FWS Digital Media Library -- The U.S. Fish and Wildlife Service's National Digital Library is a searchable collection of selected images, historical artifacts, audio clips, publications, and video.