Species Profile for Galapagos petrel (Pterodroma phaeopygia)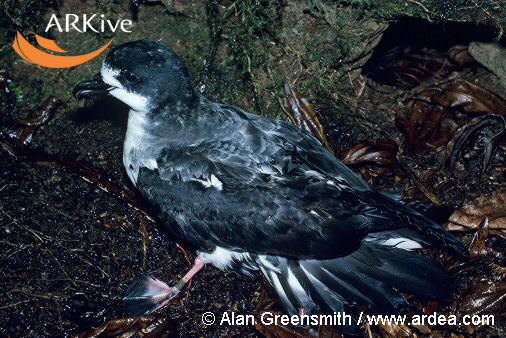 Galapagos petrel (Pterodroma phaeopygia)
Listing Status:
Where Listed:
WHEREVER FOUND
General Information
The Galapagos petrel is endemic to the Galapagos Islands, Ecuador (BirdLife International 2000), and is currently known to occur on the archipelago's islands of Santa Cruz, Floreana, Santiago, San Crist[oacute]bal, and Isabela, which cover a total land area of 2,680 square miles (6,942 km\2\, Cruz and Cruz 1987; Vargas and Cruz 2000, as cited in BirdLife International 2000). This species feeds mostly on squid, fish, and crustaceans (Castro and Phillips 1996, as cited in BirdLife International 2000), and has been observed foraging near the Galapagos Islands, as well as east and north of the islands (Spear, et al. 1995). The IUCN classifies the Galapagos petrel as ``Critically Endangered'' (BirdLife International 2006e). The total population is estimated to be 20,000-60,000 birds with a decreasing population trend (BirdLife International 2007e).
Countries in which the the Galapagos petrel, Wherever found is known to occur: Ecuador
| Status | Date Listed | Lead Region | Where Listed |
| --- | --- | --- | --- |
| | 2010-01-05 | Foreign (Headquarters) | Wherever found |
» Federal Register Documents
» Recovery
No recovery information is available for the Galapagos petrel.
» Critical Habitat
No critical habitat rules have been published for the Galapagos petrel.
» Conservation Plans
No conservation plans have been created for Galapagos petrel.
» Petitions
» Life History
No Life History information has been entered into this system for this species.
» Other Resources
NatureServe Explorer Species Reports -- NatureServe Explorer is a source for authoritative conservation information on more than 50,000 plants, animals and ecological communtities of the U.S and Canada. NatureServe Explorer provides in-depth information on rare and endangered species, but includes common plants and animals too. NatureServe Explorer is a product of NatureServe in collaboration with the Natural Heritage Network.
ITIS Reports -- ITIS (the Integrated Taxonomic Information System) is a source for authoritative taxonomic information on plants, animals, fungi, and microbes of North America and the world.
FWS Digital Media Library -- The U.S. Fish and Wildlife Service's National Digital Library is a searchable collection of selected images, historical artifacts, audio clips, publications, and video.