Species Profile for Black Stilt (Himantopus novaezelandiae)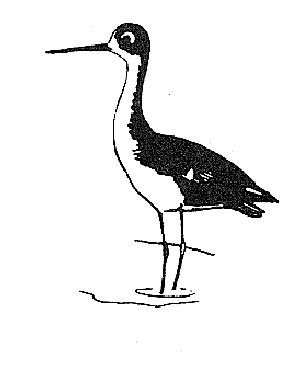 Black Stilt (Himantopus novaezelandiae)
Listing Status:
Where Listed:
WHEREVER FOUND
General Information
The black stilt is a wading bird in the family Recurvirostridae. It is native to New Zealand and is locally known there by its Maori name ''kaki.'' Adults are characterized by long red legs, a slender bill and black plumage (BirdLife International (BLI) 2007a; New Zealand Conservation Management Group (NZ CMaG 2007). Adult males and females are generally regarded as having identical plumage (BLI 2007e); however, Elkington and Maloney (2000) determined that white flecking around their eyes and crown is generally indicative of older males. Juveniles have a white-plumed breast, neck, and head (BLI 2007e).
| Status | Date Listed | Lead Region | Where Listed |
| --- | --- | --- | --- |
| | 2008-01-16 | Foreign (Headquarters) | Wherever found |
» Federal Register Documents
» Recovery
No recovery information is available for the Black Stilt.
» Critical Habitat
No critical habitat rules have been published for the Black Stilt.
» Conservation Plans
No conservation plans have been created for Black Stilt.
» Petitions
» Life History
Habitat Requirements
Black stilt habitat includes riverbanks, lakeshores, swamps, and shallow ponds (Maloney & Murray 2002; Pierce 1982; Potts 1872; Reed et al. 1993a). The species' habitat preferences shift slightly depending on the seasons, which are: Breeding (braided rivers, side streams, and swamps), post-breeding (riverbeds and shallow tarns), and wintering (inland waters or river deltas) (Maloney & Murray 2002). However, these habitats are often located within the same watershed, and the species is considered a primarily sedentary, nonmigrating species (Maloney & Murray 2002; Pierce 1986b).
» Other Resources
NatureServe Explorer Species Reports -- NatureServe Explorer is a source for authoritative conservation information on more than 50,000 plants, animals and ecological communtities of the U.S and Canada. NatureServe Explorer provides in-depth information on rare and endangered species, but includes common plants and animals too. NatureServe Explorer is a product of NatureServe in collaboration with the Natural Heritage Network.
ITIS Reports -- ITIS (the Integrated Taxonomic Information System) is a source for authoritative taxonomic information on plants, animals, fungi, and microbes of North America and the world.
FWS Digital Media Library -- The U.S. Fish and Wildlife Service's National Digital Library is a searchable collection of selected images, historical artifacts, audio clips, publications, and video.