Species Profile for Red Knot (Calidris canutus rufa)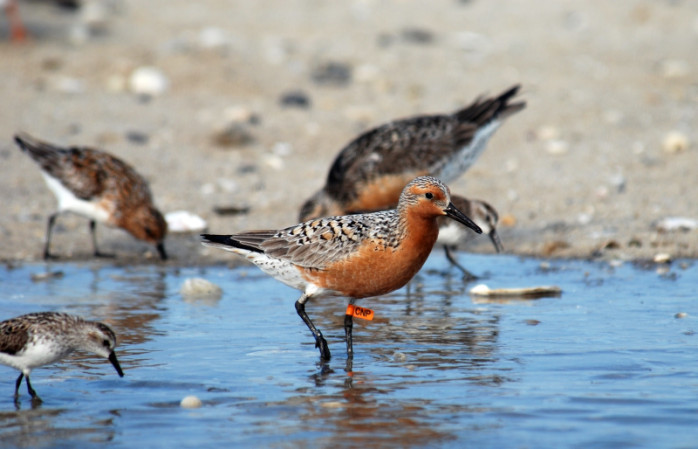 Red Knot (Calidris canutus rufa)
Listing Status:
Where Listed:
WHEREVER FOUND
General Information
Length: 25-28 cm. Adults in spring: Above finely mottled with grays, black and light ochre, running into stripes on crown; throat, breast and sides of head cinnamon-brown; dark gray line through eye; abdomen and undertail coverts white; uppertail coverts white, barred with black. Adults in winter: Pale ashy gray above, from crown to rump, with feathers on back narrowly edged with white; underparts white, the breast lightly streaked and speckled, and the flanks narrowly barred with gray. Adults in autumn: Underparts of some individuals show traces of the "red" of spring.
States/US Territories in which the Red Knot, Wherever found is known to or is believed to occur: Alabama , Connecticut , Delaware , Florida , Georgia , Illinois , Indiana , Kansas , Louisiana , Maine , Maryland , Massachusetts , Michigan , Minnesota , Mississippi , Missouri , Montana , Nebraska , New Hampshire , New Jersey , New York , North Carolina , North Dakota , Ohio , Oklahoma , Rhode Island , South Carolina , South Dakota , Texas , Virginia , West Virginia , Wisconsin
US Counties in which the Red Knot, Wherever found is known to or is believed to occur: View All
USFWS Refuges in which the Red Knot, Wherever found is known to occur: Amagansett National Wildlife Refuge, Back Bay National Wildlife Refuge, Big Boggy National Wildlife Refuge, Blackbeard Island National Wildlife Refuge, Brazoria National Wildlife Refuge ... Show All Refuges

Countries in which the the Red Knot, Wherever found is known to occur: Argentina, Aruba, Bahamas, Barbados, Belize, Brazil, British Virgin Islands, Canada, Cayman Islands, Chile, Colombia, Costa Rica, Cuba, Dominican Republic, El Salvador, French Guiana, Guadeloupe, Guatemala, Guyana, Haiti, Jamaica, Mexico, Panama, Paraguay, Suriname, Trinidad and Tobago, Uruguay, U.S. Virgin Islands, Venezuela
» Federal Register Documents
» Recovery
No recovery information is available for the Red Knot.
» Critical Habitat
No critical habitat rules have been published for the Red Knot.
» Conservation Plans
» Petitions
» Life History
No Life History information has been entered into this system for this species.
» Other Resources
NatureServe Explorer Species Reports -- NatureServe Explorer is a source for authoritative conservation information on more than 50,000 plants, animals and ecological communtities of the U.S and Canada. NatureServe Explorer provides in-depth information on rare and endangered species, but includes common plants and animals too. NatureServe Explorer is a product of NatureServe in collaboration with the Natural Heritage Network.
ITIS Reports -- ITIS (the Integrated Taxonomic Information System) is a source for authoritative taxonomic information on plants, animals, fungi, and microbes of North America and the world.
FWS Digital Media Library -- The U.S. Fish and Wildlife Service's National Digital Library is a searchable collection of selected images, historical artifacts, audio clips, publications, and video.