Species Profile for Black-Footed Albatross (Phoebastria nigripes)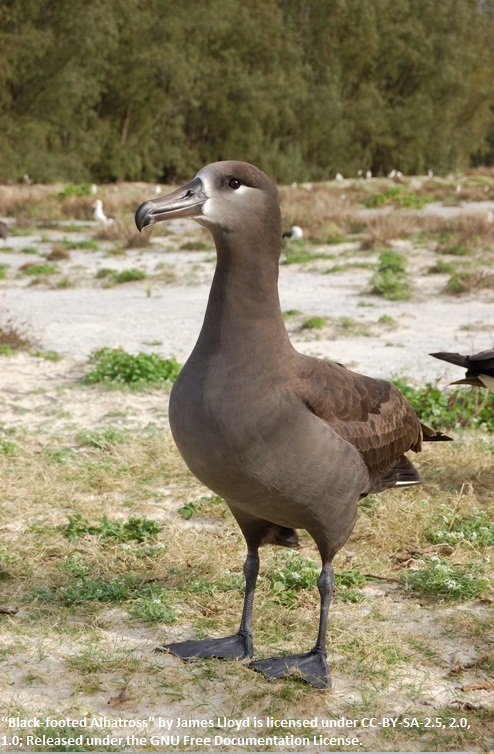 Black-Footed Albatross (Phoebastria nigripes)
Listing Status:
General Information
Adult Black-footed Albatross are large seabirds though small compared with other albatross species. They are very long with narrow wings, mostly dusky brown, white at the base of their bill and under eye, and have a large bill. Juveniles are similar to adults, but usually have less white at the bill base.
References cited in Species Profile
Awkerman, Jill A., David J. Anderson and G. Causey Whittow. 2008. Black-footed Albatross (Phoebastria nigripes), The Birds of North America Online (A. Poole, Ed.). Ithaca: Cornell Lab of Ornithology; Retrieved from the Birds of North America Online: http://bna.birds.cornell.edu/bna/species/065
Cornell Lab of Ornithology. 2015. Black-footed Albatross. All About Birds. http://www.allaboutbirds.org/guide/Black-footed_Albatross/id
Fisher, H. I. 1972. Sympatry of Laysan and Black-footed albatrosses. Auk 89:381-402.
Government of Canada. 2015. COSEWIC Assessment and Status Report on the Black-footed Albatross (Phoebastria nigripes) in Canada. https://www.registrelep-sararegistry.gc.ca/default.asp?lang=En&n=8D0E0784-1&offset=4&toc=show
Harrison, C. S. 1990. Seabirds of Hawaii Natural History and Conservation. Cornell University Press, Ithaca.
Rice, D. W. and K. W. Kenyon. 1962a. Breeding distribution, history and populations of North Pacific albatrosses. Auk 79:365-386.
Tickell, W. L. N. 2000. Albatrosses. Yale University Press, New Haven.

» Federal Register Documents

» Recovery

No recovery information is available for the Black-Footed Albatross.

» Critical Habitat

No critical habitat rules have been published for the Black-Footed Albatross.

» Conservation Plans

No conservation plans have been created for Black-Footed Albatross.

» Petitions

» Life History

Habitat Requirements

Nests in upper levels of exposed sandy beach islands while spending non-breeding season on open ocean.

Food Habits

Mostly flying fish eggs; also squid, adult flying fish, and crustaceans.

Movement / Home Range

Almost all Black-footed Albatross breed in the northwest Hawaiian Islands, as the largest breeding colonies occur on the Midway Atoll. Immature birds primarily spend winters in the eastern North Pacific, which is likely where adult birds also remain. Breeding adults leave nesting colonies in June; food distribution and wind are likely the most significant factors affecting their movements.

Reproductive Strategy

Nest construction responsibilities are shared between both sexes, which involves forming scooped-out hollows in sand.

Other

Long-line fishing and plastic pollution are serious threats to the conservation of the Black-footed Albatross. Drift nets kill large numbers of this species, with 4,426 deaths documented in 1990. They also remain vulnerable to oil pollution of marine waters. In 1992, the worldwide Black-footed Albatross population was estimated to be 200,000 individuals. In 2000, an estimated 109,000 mature individuals indicated a decreasing trend.

» Other Resources

NatureServe Explorer Species Reports -- NatureServe Explorer is a source for authoritative conservation information on more than 50,000 plants, animals and ecological communtities of the U.S and Canada. NatureServe Explorer provides in-depth information on rare and endangered species, but includes common plants and animals too. NatureServe Explorer is a product of NatureServe in collaboration with the Natural Heritage Network.

ITIS Reports -- ITIS (the Integrated Taxonomic Information System) is a source for authoritative taxonomic information on plants, animals, fungi, and microbes of North America and the world.

FWS Digital Media Library -- The U.S. Fish and Wildlife Service's National Digital Library is a searchable collection of selected images, historical artifacts, audio clips, publications, and video.