Species Profile for Leatherback sea turtle (Dermochelys coriacea)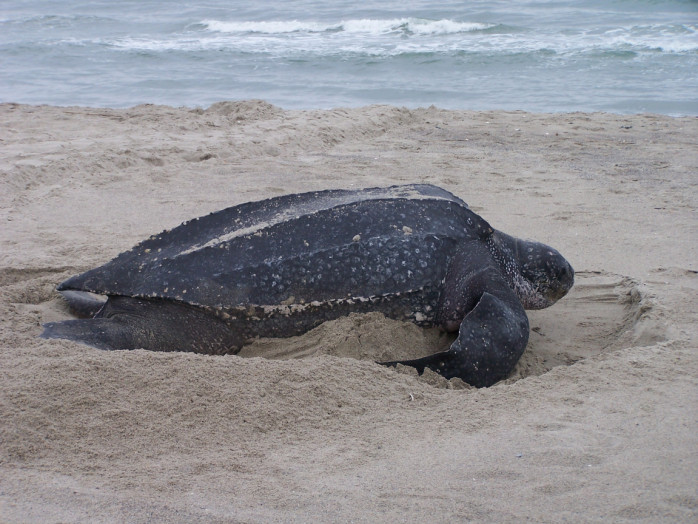 Leatherback sea turtle (Dermochelys coriacea)
Listing Status:
Where Listed:
WHEREVER FOUND
General Information
The leatherback is the largest, deepest diving, and most migratory and wide ranging of all sea turtles. The adult leatherback can reach 4 to 8 feet in length and 500 to 2000 pounds in weight. Its shell is composed of a mosaic of small bones covered by firm, rubbery skin with seven longitudinal ridges or keels. The skin is predominantly black with varying degrees of pale spotting; including a notable pink spot on the dorsal surface of the head in adults. A toothlike cusp is located on each side of the gray upper jaw; the lower jaw is hooked anteriorly. The paddle-like clawless limbs are black with white margins and pale spotting.
States/US Territories in which the Leatherback sea turtle, Wherever found is known to or is believed to occur: Alabama , California , Connecticut , Delaware , Florida , Georgia , Hawaii , Louisiana , Maine , Maryland , Massachusetts , Mississippi , New Hampshire , New Jersey , New York , North Carolina , Oregon , Puerto Rico , Rhode Island , South Carolina , Texas , Virginia , Virgin Islands , Washington
US Counties in which the Leatherback sea turtle, Wherever found is known to or is believed to occur: View All
USFWS Refuges in which the Leatherback sea turtle, Wherever found is known to occur: Anahuac National Wildlife Refuge, Aransas National Wildlife Refuge, Archie Carr National Wildlife Refuge, Blackbeard Island National Wildlife Refuge, Breton National Wildlife Refuge ... Show All Refuges

Countries in which the the Leatherback sea turtle, Wherever found is known to occur: Albania, American Samoa, Angola, Antigua and Barbuda, Argentina, Aruba, Australia, Bahamas, Bahrain, Barbados, Benin, Brazil, British Virgin Islands, Canada, Cayman Islands, Chile, China, Colombia, Congo, Costa Rica, Cuba, Dominica, Dominican Republic, Ecuador, El Salvador, Eritrea, Fiji, French Guiana, Gabon, Ghana, Grenada, Guadeloupe, Guam, Guatemala, Guyana, Haiti, Honduras, India, Indonesia, Italy, Ivory Coast, Jamaica, Liberia, Malaysia, Martinique, Mauritania, Mexico, Montserrat, Mozambique, Myanmar (Burma), Netherlands Antilles, New Zealand, Nicaragua, Northern Mariana Islands, Palau, Panama, Papua New Guinea, Peru, Philippines, Portugal, Puerto Rico, Saint Kitts and Nevis, Saint Lucia, Saint Vincent and the Grenadines, Sao Tome and Principe, Senegal, Solomon Islands, South Africa, Sri Lanka, Suriname, Taiwan, Thailand, Togo, Trinidad and Tobago, Turks and Caicos Islands, United States, U.S. Pacific Outlying Islands, U.S. Virgin Islands, Vanuatu, Venezuela
» Federal Register Documents
» Recovery
» Critical Habitat
To learn more about critical habitat please see http://ecos.fws.gov/crithab
» Conservation Plans
» Petitions
» Life History
No Life History information has been entered into this system for this species.
» Other Resources
NatureServe Explorer Species Reports -- NatureServe Explorer is a source for authoritative conservation information on more than 50,000 plants, animals and ecological communtities of the U.S and Canada. NatureServe Explorer provides in-depth information on rare and endangered species, but includes common plants and animals too. NatureServe Explorer is a product of NatureServe in collaboration with the Natural Heritage Network.
ITIS Reports -- ITIS (the Integrated Taxonomic Information System) is a source for authoritative taxonomic information on plants, animals, fungi, and microbes of North America and the world.
FWS Digital Media Library -- The U.S. Fish and Wildlife Service's National Digital Library is a searchable collection of selected images, historical artifacts, audio clips, publications, and video.