Species Profile for Puerto Rican boa (Epicrates inornatus)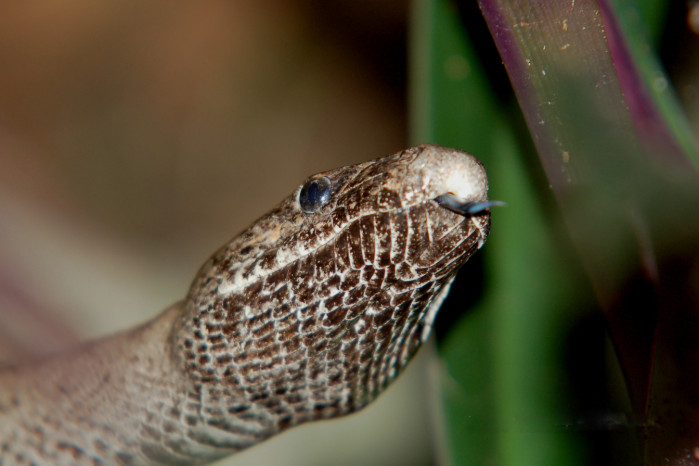 Puerto Rican boa (Epicrates inornatus)
Listing Status:
Where Listed:
WHEREVER FOUND
General Information
The color is somewhat variable but usually ranges from pale to dark brown, sometimes grayish, with 7O to 8O darker colored blotches along the back from neck to vent. These dorsal blotches are generally dark-bordered with the centers of a lighter hue. Maximum size is approximately 6 and a half feet. Observations of captive specimens suggest that under natural conditions the diet of sub-adults and adults consists of birds, small mammals, and lizards. Rodr¡guez and Reagan (1984) report bat predation by the Puerto Rican boa. The boa feeds by seizing the prey in its jaws, wrapping several coils around the victim, and then constricting until the prey has suffocated. The prey is then swallowed head first. The feeding habits of the very young are unknown.
States/US Territories in which the Puerto Rican boa, Wherever found is known to or is believed to occur: Puerto Rico
US Counties in which the Puerto Rican boa, Wherever found is known to or is believed to occur: View All
» Federal Register Documents
» Recovery
» Critical Habitat
No critical habitat rules have been published for the Puerto Rican boa.
» Conservation Plans
No conservation plans have been created for Puerto Rican boa.
» Petitions
» Life History
No Life History information has been entered into this system for this species.
» Other Resources
NatureServe Explorer Species Reports -- NatureServe Explorer is a source for authoritative conservation information on more than 50,000 plants, animals and ecological communtities of the U.S and Canada. NatureServe Explorer provides in-depth information on rare and endangered species, but includes common plants and animals too. NatureServe Explorer is a product of NatureServe in collaboration with the Natural Heritage Network.
ITIS Reports -- ITIS (the Integrated Taxonomic Information System) is a source for authoritative taxonomic information on plants, animals, fungi, and microbes of North America and the world.
FWS Digital Media Library -- The U.S. Fish and Wildlife Service's National Digital Library is a searchable collection of selected images, historical artifacts, audio clips, publications, and video.