Species Profile for Shenandoah salamander (Plethodon shenandoah)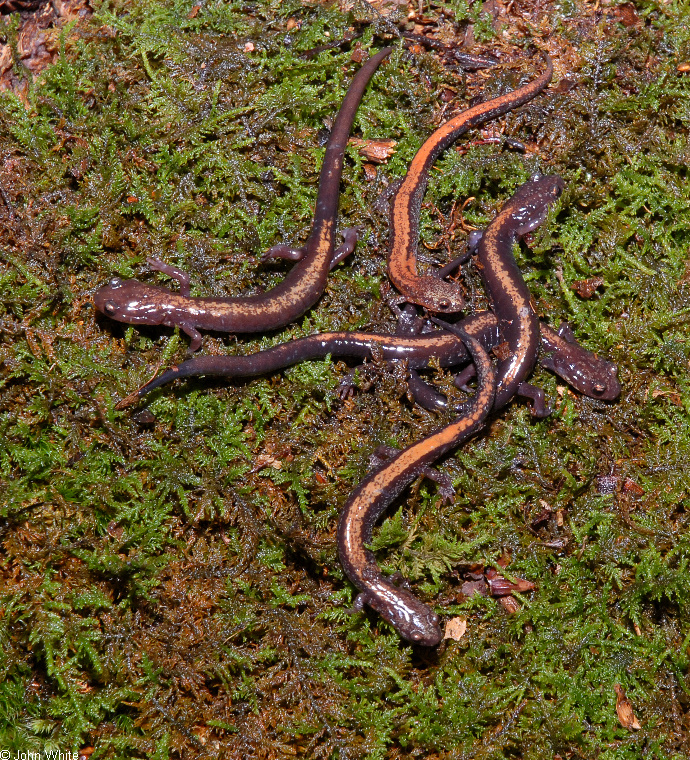 Shenandoah salamander (Plethodon shenandoah)
Listing Status:
Where Listed:
WHEREVER FOUND
General Information
The Shenandoah salamander is a small terrestrial amphibian known only from three mountains, all within the boundaries of Shenandoah National Park in Virginia. It occurs on northwest to northeast facing talus slopes 2,900 feet above sea level. This is a slender, moderate-sized salamander with a total length of 3.5 to 4.5 inches. The body is dark brown, with two colors phases. The striped color phase has a narrow red to yellow stripe down the center of the back. In the unstripped phase, the back is dark brown with scattered brass-colored flecks. In both phases, white or yellow spots occur along the sides.
States/US Territories in which the Shenandoah salamander, Wherever found is known to or is believed to occur: Virginia
US Counties in which the Shenandoah salamander, Wherever found is known to or is believed to occur: View All
» Federal Register Documents
» Recovery
» Critical Habitat
No critical habitat rules have been published for the Shenandoah salamander.
» Conservation Plans
No conservation plans have been created for Shenandoah salamander.
» Petitions
» Life History
Habitat Requirements
This woodland salamander has no aquatic stage. It is generally found in forested conditions, where the presence of an overstory promotes surface moisture. Respiration occurs through the skin surface, which must be kept constantly moist for this purpose. Primarily nocturnal, this salamander spends its days in rock crevices or under other objects; its movements are restricted during droughts.
Food Habits
The salamander's diet generally consists of mites, springtails, flies, small beetles, and other soil invertebrates.
Movement / Home Range
Activity and movements are restricted during dry periods.
Reproductive Strategy
Breeding takes place in late spring or summer. In contrast with most salamanders, complete development of the embryo takes place within the egg.Small egg clusters, containing three to seventeen eggs, are laid in damp logs, moss, or other available crevices, and the females guard the eggs. Incubation lasts one to three months, during which time the female does not forage for food. Females do not breed before four years of age, and breed only every other year. Adult survival is high, with small percentage surviving tewnty-five years or longer.
Other
» Other Resources
NatureServe Explorer Species Reports -- NatureServe Explorer is a source for authoritative conservation information on more than 50,000 plants, animals and ecological communtities of the U.S and Canada. NatureServe Explorer provides in-depth information on rare and endangered species, but includes common plants and animals too. NatureServe Explorer is a product of NatureServe in collaboration with the Natural Heritage Network.
ITIS Reports -- ITIS (the Integrated Taxonomic Information System) is a source for authoritative taxonomic information on plants, animals, fungi, and microbes of North America and the world.
FWS Digital Media Library -- The U.S. Fish and Wildlife Service's National Digital Library is a searchable collection of selected images, historical artifacts, audio clips, publications, and video.