Species Profile for Columbia Spotted frog (Rana luteiventris)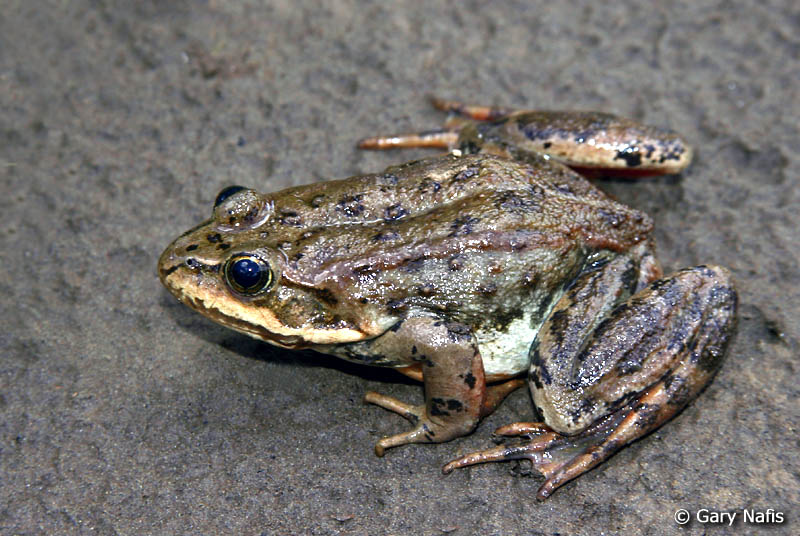 Columbia Spotted frog (Rana luteiventris)
Listing Status:
General Information
Columbia spotted frogs (Rana Luteiventris) are found from Alaska and most of British Columbia to Washington east of the Cascades, Idaho, and portions of Wyoming, Nevada, and Utah. The Great Basin population range includes eastern Oregon, southwestern Idaho, and the northern drainages of Nevada. In Idaho, it occurs in the mid-elevations of the Owyhee uplands and in southern Twin Falls county. Spotted frogs live in spring seeps, meadows, marshes, ponds and streams, and other areas where there is abundant vegetation. They often migrate along riparian corridors between habitats used for spring breeding, summer foraging and winter hibernation. The Great Basin population of Columbia spotted frogs have a light-colored stripe along the jaw and are light to dark brown or olive on their backs with varying numbers of irregular black spots. The skin texture varies from smooth to rough, and there are folds of skin on their rough backs. The coloration of their underside ranges from white to yellow, and mottling is present to varying degrees. The hind feet are large and have webbing that extends nearly the length of the hind toes. At metamorphosis (changing from tadpole to frog), they range in size from 23 to 33 mm (approximately 0.88 to 1.25 inches). In their third year, they are generally large enough that gender may be determined. As adults, they can vary in size from 50 to 90 mm (2 to 3.5 inches) depending on gender and to some extent, age. The species is currently a candidate species; for listing under the Endangered Species Act. The largest known threat to spotted frogs is habitat alteration and loss, specifically loss of wetlands used for feeding, breeding, hibernating, and migrating. Reduction or loss of habitat can be attributed at least in part to recent drought conditions, spring developments, wetland degradation, water diversions, road construction, dam construction, fire, and loss of native beavers. Other threats include predation by non-native species and diseases. Monitoring activities to assess population trend and distribution are ongoing in the southwestern Idaho portion of species range.
Population detail
The FWS is currently monitoring the following populations of the Columbia Spotted frog
Population location: main pop.

Listing status: Resolved Taxon

Population location: Great Basin DPS

Listing status: Resolved Taxon

States/US Territories in which this population is known to or is believed to occur: Idaho , Nevada , Oregon
US Counties in which this population is known to or is believed to occur: View All
USFWS Refuges in which this population is known to occur: Malheur National Wildlife Refuge

Countries in which the this population is known to occur: United States
» Federal Register Documents
» Recovery
» Critical Habitat
No critical habitat rules have been published for the Columbia Spotted frog.
» Conservation Plans
» Petitions
» Life History
Habitat Requirements
Columbia spotted frogs are found closely associated with clear, slow-moving or ponded surface waters, with little shade, and relatively constant water temperatures (Munger et al. 1996, p. 8; Reaser 1997a, pp. 32-33; Reaser and Pilliod 2005, p. 561; Welch and MacMahon 2005, p. 477). Reproducing populations have been found in habitats characterized by springs, floating vegetation, and larger bodies of pooled water (e.g., oxbows, lakes, stock ponds, beaver-created ponds, seeps in wet meadows, backwaters) (Reaser and Pilliod 2005, p. 560). A deep silt or muck substrate may be required for hibernation and torpor (a state of lowered physiological activity, usually occurs during colder months) (Bull 2005, p. 12; Reaser and Pilliod 2005, p. 561). In colder portions of their range, Columbia spotted frogs will use areas where water does not freeze, such as spring heads and undercut streambanks with overhanging vegetation (Bull 2005, p. 12; Reaser and Pilliod 2005, p. 561); however, they can overwinter underneath ice-covered ponds (Tattersall and Ultsch 2008, pp. 122-123).
Food Habits
Adult Columbia spotted frogs are opportunistic feeders, consuming many types of insects, mollusks, and even other amphibians (Bull 2005, pp. 16-19; Reaser and Pilliod 2005, p. 561). Bull (2005, pp. 16-19) conducted a diet analysis for populations in northeast Oregon where the most common insects consumed were beetles (21 percent), ants or wasps (21 percent), and flies (10 percent). Tadpoles are grazers which consume algae and detritus (Reaser and Pilliod 2005, p. 560).
Movement / Home Range
While Columbia spotted frogs show strong site fidelity, individuals are capable of travelling relatively large distances of 5 km (3.1 mi) or more if adequate habitat is available (Funk et al. 2005a, p. 2; C. Mellison 2012, unpublished data).
Reproductive Strategy
Males become sexually mature 1-2 years earlier than females, usually at age 2 or 3 (Reaser and Pilliod 2005, p. 561). Columbia spotted frogs employ a scramble mating system in which males race for access to females and there is little opportunity for female choice or male combat (Greene and Funk 2009, p. 244). Females usually lay egg masses in the warmest areas of a pond, typically in shallow water (10-20 cm, 4-8 in), and clutch sizes vary (150-2,400 eggs) (Bull 2005, pp. 8 and 11; Reaser and Pilliod 2005, p. 560; Pearl et al. 2007a, pp. 87-89). Successful egg production and the viability and metamorphosis of Columbia spotted frogs are dependent on habitat variables such as temperature, depth, and pH of water, cover, and the presence or absence of predators (Munger et al. 1996, p. 8; Reaser 1997b, pp. 21-22; Bull 2005, p. 7; Reaser and Pilliod 2005, pp. 561-562).
» Other Resources
NatureServe Explorer Species Reports -- NatureServe Explorer is a source for authoritative conservation information on more than 50,000 plants, animals and ecological communtities of the U.S and Canada. NatureServe Explorer provides in-depth information on rare and endangered species, but includes common plants and animals too. NatureServe Explorer is a product of NatureServe in collaboration with the Natural Heritage Network.
ITIS Reports -- ITIS (the Integrated Taxonomic Information System) is a source for authoritative taxonomic information on plants, animals, fungi, and microbes of North America and the world.
FWS Digital Media Library -- The U.S. Fish and Wildlife Service's National Digital Library is a searchable collection of selected images, historical artifacts, audio clips, publications, and video.