Species Profile for Lahontan cutthroat trout (Oncorhynchus clarkii henshawi)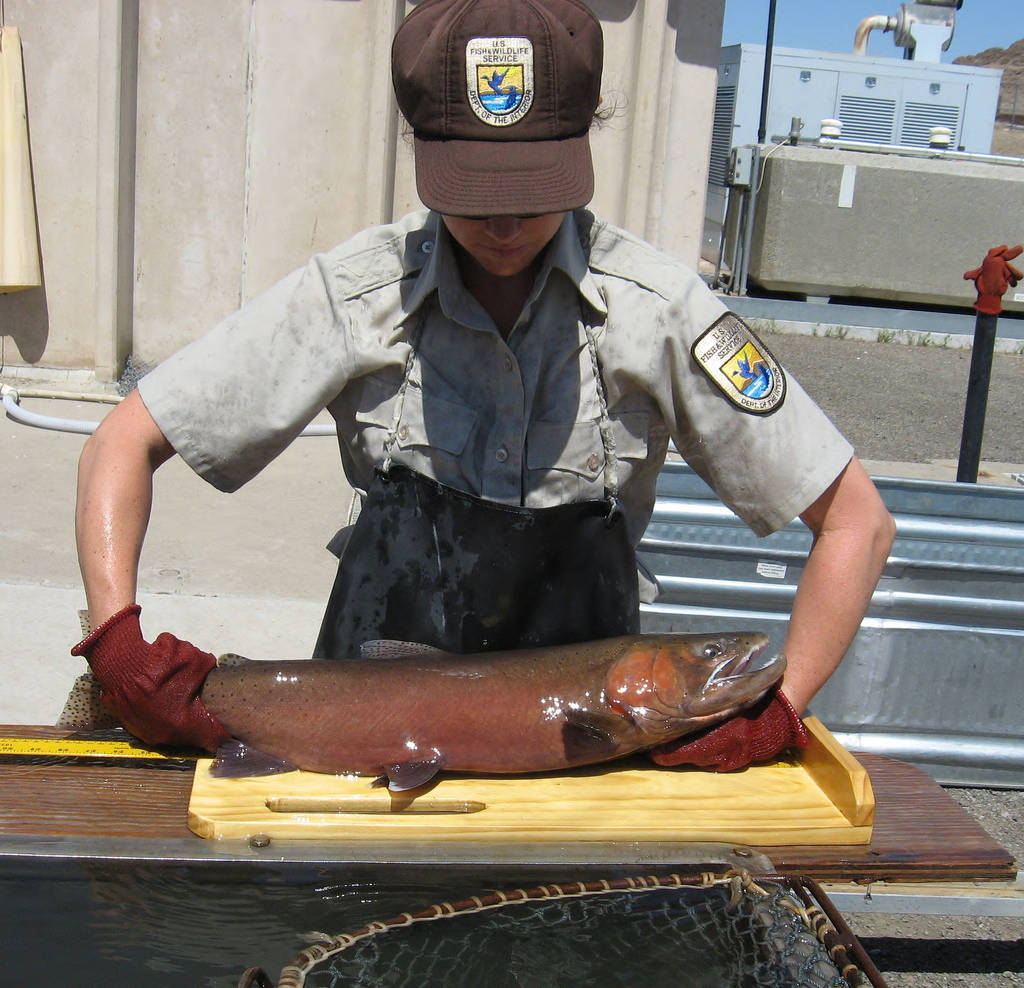 Lahontan cutthroat trout (Oncorhynchus clarkii henshawi)
Listing Status:
Where Listed:
WHEREVER FOUND
States/US Territories in which the Lahontan cutthroat trout, Wherever found is known to or is believed to occur: California , Nevada , Oregon , Utah
US Counties in which the Lahontan cutthroat trout, Wherever found is known to or is believed to occur: View All
USFWS Refuges in which the Lahontan cutthroat trout, Wherever found is known to occur: Sheldon National Wildlife Refuge

Countries in which the the Lahontan cutthroat trout, Wherever found is known to occur: United States
» Federal Register Documents
» Recovery
» Critical Habitat
No critical habitat rules have been published for the Lahontan cutthroat trout.
» Conservation Plans
» Petitions
» Life History
Habitat Requirements
Specific habitat requirements for cutthroat trout are described in Hickman and Raleigh (1982, pp. 3-7) and summarized below. Optimal stream habitat is characterized by clear, cold water with silt-free substrate and a 1:1 pool-riffle ratio. Streams should have a variety of habitats including areas with slow deep water, abundant instream cover (i.e., large woody debris, boulders, undercut banks), and relatively stable streamflow and temperature regimes. Streambanks should be well vegetated to provide cover, shade, and bank stabilization. Lacustrine LCT populations have adapted to a wide variety of lake habitats from oligotrophic (with low nutrient levels and primary productivity) alpine lakes (e.g., Independence Lake) to large, productive desert terminal lakes (e.g., Pyramid Lake). Unlike most freshwater fish species, LCT have been reported to tolerate alkalinity and total dissolved solid levels as high as 3,000 milligrams/liter (mg/L) (3,000 parts per million (ppm)) and 10,000 mg/L (10,000 ppm), respectively (Dickerson and Vinyard 1999a, pp. 510-514).
Food Habits
Stream-resident LCT are opportunistic feeders, with diets consisting of drift organisms, typically terrestrial and aquatic insects (Moyle 2002, p. 290; Dunham et al. 2000, p. 308). Recent literature has documented the importance of terrestrial insects in the diet of stream salmonids (Baxter et al. 2005, pp. 201-214). In lakes, small LCT feed largely on insects and zooplankton (Calhoun 1942, pp. 197-199; McAfee 1966, p. 228; Lea 1968, pp. 59-63), and larger LCT become piscivorous. In Pyramid Lake, fish enter the diet when LCT reach 200 mm (7.9 in) in length, comprise over 50 percent of the diet at 300 mm (11.8 in), and represent almost 100 percent of the diet when LCT are over 500 mm (19.7 in) (Sigler et al. 1983, p. 16).
Reproductive Strategy
Lahontan cutthroat trout inhabit lakes and streams, but are obligatory stream spawners. Distance traveled to spawning sites varies with stream size and strain of LCT (strain refers to locally adapted populations in a particular area or environment). Populations in Pyramid and Winnemucca Lakes migrated as far as 160 kilometers (km) (100 miles (mi)) up the Truckee River into Lake Tahoe and its tributary streams (Sumner 1940, p. 217; Peacock and Kirchoff 2007, pp. 74-75). Small, intermittent, tributary streams and headwater reaches are sometimes used as spawning sites (Coffin 1981, p. 31). Spawning generally occurs from April through July, depending upon stream flow, elevation, and water temperature (McAfee 1966, p. 227; Lea 1968, pp. 68-69; Moyle 2002, p. 291; Rissler et al. 2006, pp. 13-15). LCT in fluvial environments generally become sexually mature around year three (Ray et al. 2007, p. 40) while LCT in lacustrine environments become sexually mature between 3 and 4 years of age (Rissler et al. 2006, p. 35). The Pilot Peak broodstock, derived from the Pilot Peak range in Utah and now known to have originated from the Truckee River watershed, sexually matures between 3 and 4 years with less than 10 percent maturing at age 5 and above (Jay Bigelow 2009, personal communication).
» Other Resources
NatureServe Explorer Species Reports -- NatureServe Explorer is a source for authoritative conservation information on more than 50,000 plants, animals and ecological communtities of the U.S and Canada. NatureServe Explorer provides in-depth information on rare and endangered species, but includes common plants and animals too. NatureServe Explorer is a product of NatureServe in collaboration with the Natural Heritage Network.
ITIS Reports -- ITIS (the Integrated Taxonomic Information System) is a source for authoritative taxonomic information on plants, animals, fungi, and microbes of North America and the world.
FWS Digital Media Library -- The U.S. Fish and Wildlife Service's National Digital Library is a searchable collection of selected images, historical artifacts, audio clips, publications, and video.