Species Profile for Arkansas fatmucket (Lampsilis powellii)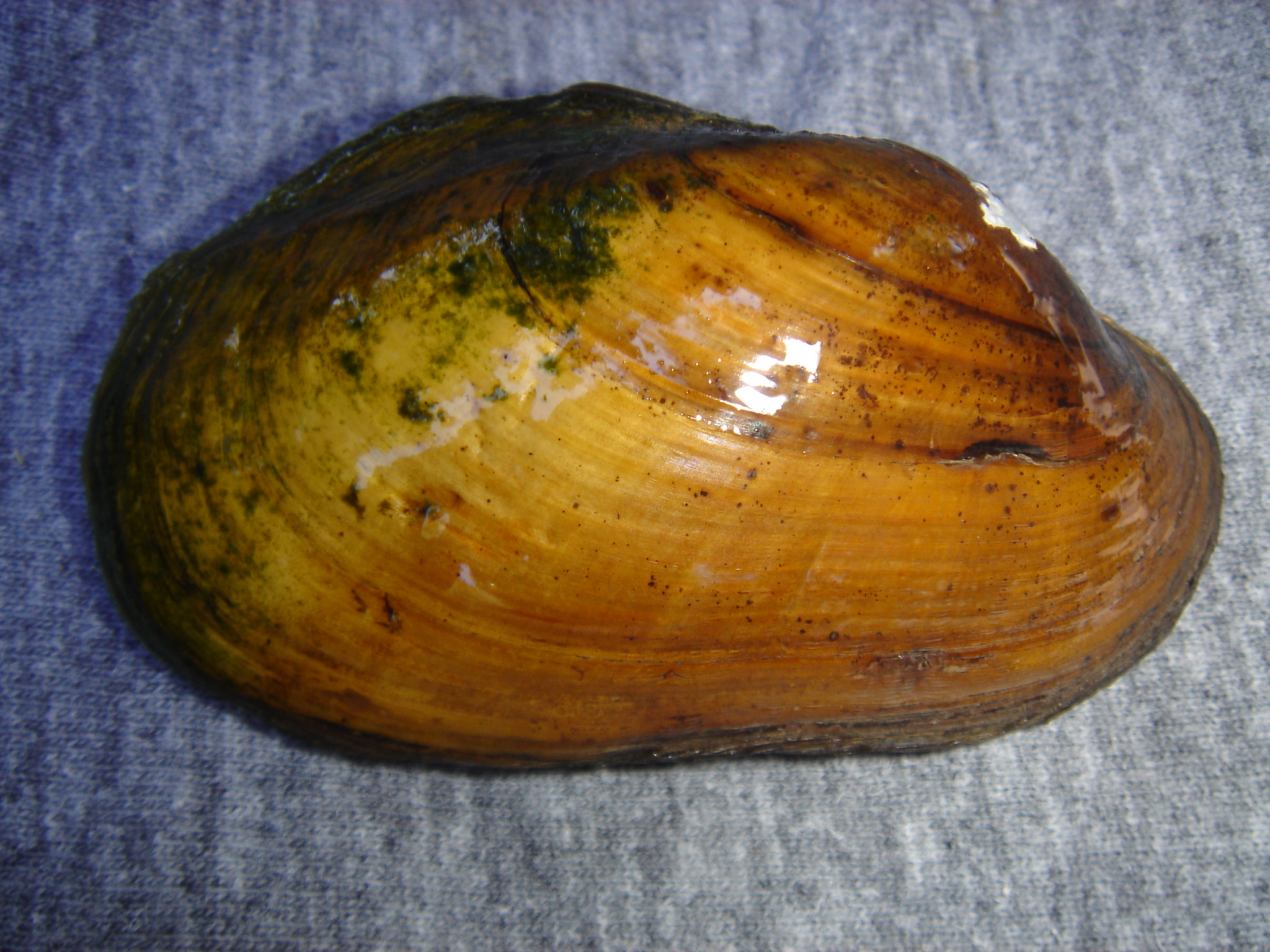 Arkansas fatmucket (Lampsilis powellii)
Listing Status:
Where Listed:
WHEREVER FOUND
General Information
Outline elliptical to oblong ovate, slightly to moderately inflated, anterior end rounded; sexually dimorphic with posterior end somewhat pointed in males, broadly rounded to truncate in females. Valves thin to moderately thick. Umbos moderately full, slightly projected above the hinge line. Periostracum somewhat shiny, yellow to yellowish tan, color rays lacking but lines of tiny pits running down the shell may appear to be rays. Nacre usually white, sometimes pink to iridescent; pseudocardinal teeth somewhat thin but well developed, lateral teeth well developed, interdentum thin. Length to 150 mm. (Johnson 1980; Gordon and Harris 1985; Harris and Gordon 1990)
States/US Territories in which the Arkansas fatmucket, Wherever found is known to or is believed to occur: Arkansas
US Counties in which the Arkansas fatmucket, Wherever found is known to or is believed to occur: View All
Countries in which the the Arkansas fatmucket, Wherever found is known to occur: United States
» Federal Register Documents
» Recovery
» Critical Habitat
No critical habitat rules have been published for the Arkansas fatmucket.
» Conservation Plans
No conservation plans have been created for Arkansas fatmucket.
» Petitions
» Life History
Habitat Requirements
Harris and Gordon (1988) reported four microhabitat types that include: 1) long pools with cobble and rock as primary substrate types, 2) backwater areas downstream of peninsulas or islands covered with water willow (Justicia americana) and with cobble and sand as the dominant substrate, 3) slow moving pools upstream from water willow islands with sand, gravel, and cobble substrate, and 4) overflow, secondary channel pools, and tributary confluence areas with sand, cobble, and some rock substrate.
Food Habits
Food items include algae, bacteria, detritus (disintegrated organic debris), and microscopic animals (Strayer et al. 2004, pp. 430–431). It also has been surmised that dissolved organic matter may be a significant source of nutrition (Strayer et al. 2004, p. 430). Adults are filter feeders and generally orient themselves on or near the substrate surface to take in food and oxygen from the water column. Juveniles typically burrow completely beneath the substrate surface and are pedal (foot) feeders (bringing food particles inside the shell for ingestion that adhere to the foot while it is extended outside the shell) until the structures for filter feeding are more fully developed (Yeager et al. 1994, pp. 200–221; Gatenby et al. 1996, p. 604).
Movement / Home Range
Sedentary. Endemic to Ouachita Mountain streams of the Ouachita River drainage in Arkansas, L. powellii is known from the Alum, Middle, North, and South Forks of the Saline River as well as the mainstem to approximately 40 river kilometers downstream of the Fall Line; the upper Ouachita and South Fork of the Ouachita rivers upstream of Lake Ouachita; and the Caddo River upstream of Lake DeGray. Small populations may exist in the Caddo and Ouachita rivers downstream of lakes DeGray and Ouachita, respectively, but apparently don't extend far downstream of the Fall Line (Harris et al. 2010; USFWS 2013).
Reproductive Strategy
The Arkansas fatmucket is gravid from March through October (Scott 2004). Micropterus punctulatus and M. salmoides are the optimal fish hosts, while Ambloplites ariommus, Lepomis cyanellus, L. megalotis, L. macrochirus, and M. dolomieu appear to be marginal hosts with low (<1%) juvenile transformation success (Scott 2004, Christian et al. 2006).
» Other Resources
NatureServe Explorer Species Reports -- NatureServe Explorer is a source for authoritative conservation information on more than 50,000 plants, animals and ecological communtities of the U.S and Canada. NatureServe Explorer provides in-depth information on rare and endangered species, but includes common plants and animals too. NatureServe Explorer is a product of NatureServe in collaboration with the Natural Heritage Network.
ITIS Reports -- ITIS (the Integrated Taxonomic Information System) is a source for authoritative taxonomic information on plants, animals, fungi, and microbes of North America and the world.
FWS Digital Media Library -- The U.S. Fish and Wildlife Service's National Digital Library is a searchable collection of selected images, historical artifacts, audio clips, publications, and video.