Species Profile for Northeastern beach tiger beetle (Cicindela dorsalis dorsalis)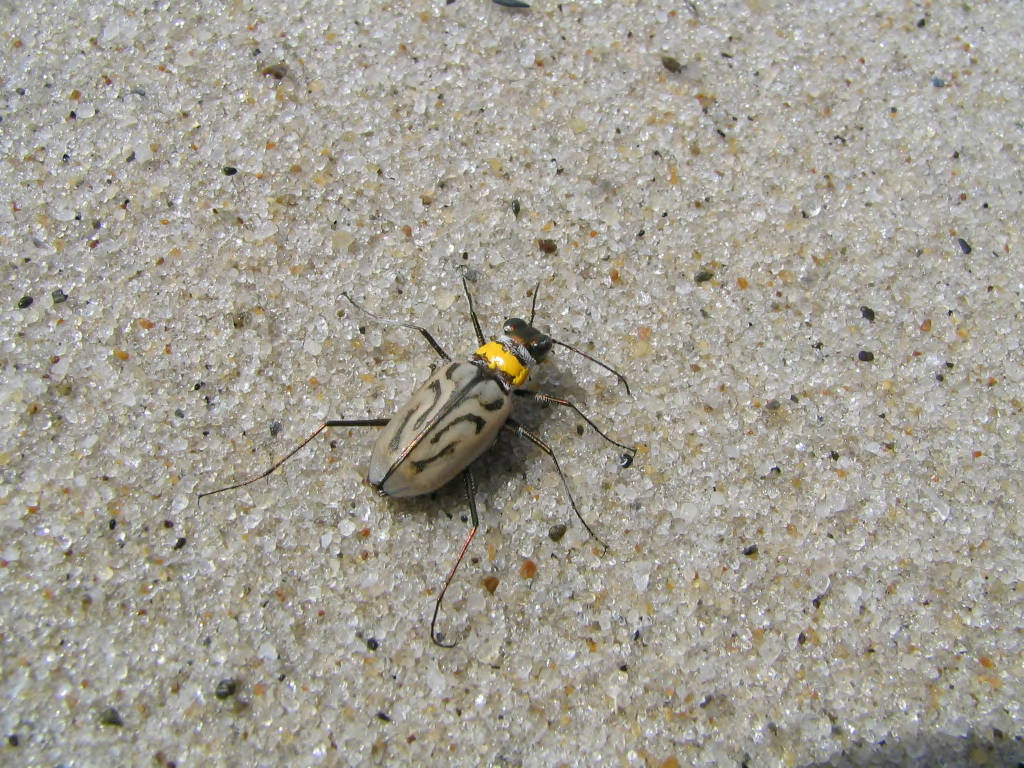 Northeastern beach tiger beetle (Cicindela dorsalis dorsalis)
Listing Status:
Where Listed:
WHEREVER FOUND
General Information
The largest (13-15 mm) of the recognized subspecies, the Northeastern beach tiger beetle is bronze to greenish with extensive maculations that run the length of the elytra. The maculations are wide, cream-colored, and frequently are expanded to cover much of the elytral surface. Abrasion by sand makes elytra of older individuals lighter. Below it is dark bronze to dark green with dense, white hair-like setae covering the sides of the abdomen. The last pair of legs is exceptionally long. The males and females are visibly different in the shape of the thorax (cylindrical in males, trapezoidal in females), and the shape of the elytral tip (rounded in males, broadly notched in females).
States/US Territories in which the Northeastern beach tiger beetle, Wherever found is known to or is believed to occur: Maryland , Massachusetts , New Jersey , Virginia
US Counties in which the Northeastern beach tiger beetle, Wherever found is known to or is believed to occur: View All
USFWS Refuges in which the Northeastern beach tiger beetle, Wherever found is known to occur: Eastern Shore of Virginia National Wildlife Refuge, Monomoy National Wildlife Refuge, Plum Tree Island National Wildlife Refuge

» Federal Register Documents
» Recovery
» Critical Habitat
No critical habitat rules have been published for the Northeastern beach tiger beetle.
» Conservation Plans
No conservation plans have been created for Northeastern beach tiger beetle.
» Petitions
» Life History
Habitat Requirements
Adult and larval tiger beetles are found on long, wide, dynamic beaches that have little human and vehicular activity. Studies have shown the beetles to be depended on medium to medium coarse sand with low organics. Adult beetles are present from June through September and are active on warm, sunny days where they can be seen feeding, mating, or basking along the water's edge.
Food Habits
Adults are active predators that forage on small invertebrates or scavenge on dead fish, crabs, and amphipods. Larvae are sedentary ambush predators that live in well-formed burrows from which they extend to capture passing prey.
Movement / Home Range
Once abundant along coastal beaches from Massachusetts to New Jersey, and along the Chesapeake Bay in Maryland and Virginia. The Northeastern beach tiger beetle has been extirpated from Connecticut, Rhode Island, and New York. The status of the translocated population at Gateway National Recreation Area, Sandy Hook, New Jersey is uncertain. Only two known populations of this beetle can be found north of the Chesapeake Bay, both in Massachusetts (Martha's Vineyard and a translocation population at Monomoy National Wildlife Refuge). There is only four sites remaining in Maryland, and the highest number of populated sites are located along sections of beaches found in Virginia's portion of the Chesapeake Bay. Studies have shown that adults can disperse up to 7 kilometers after emergence.
Reproductive Strategy
Adults are primarily active from June to September, and over winters as larvae. The adults mate and lay eggs from late June through August. Females are thought to lay eggs at night in shallow burrows in the mid to high tide zone on coastal beaches. Burrows are 15-50 cm deep and are found anywhere from just above mean low tide line to the base of the dunes above the beach. The larvae will move their burrows up the beach to avoid winter storm floods and narrowing of the beach. Larvae are active primarily at night and plug the entrance to their burrow during warm days when the sand surface dries out. Depending on the prey base availability, the larvae will transition through three stages in one to two years before they pupate and emerge as adults. The larvae are present year round on the beach, hibernating through the winter.
Other
Few northeastern beach tiger beetle sites are protected and many are threatened by human activities. Loss of this beetle from most of its range has been attributed primarily to destruction and disturbance of natural beach habitat from shoreline development, beach stabilization, and high levels of recreational use. Additional threats include pollution, pesticides, oil slicks, and off-road vehicle traffic. Natural limiting factors include winter storms, beach erosion, flood tides, hurricanes, parasites, and predators.
» Other Resources
NatureServe Explorer Species Reports -- NatureServe Explorer is a source for authoritative conservation information on more than 50,000 plants, animals and ecological communtities of the U.S and Canada. NatureServe Explorer provides in-depth information on rare and endangered species, but includes common plants and animals too. NatureServe Explorer is a product of NatureServe in collaboration with the Natural Heritage Network.
ITIS Reports -- ITIS (the Integrated Taxonomic Information System) is a source for authoritative taxonomic information on plants, animals, fungi, and microbes of North America and the world.
FWS Digital Media Library -- The U.S. Fish and Wildlife Service's National Digital Library is a searchable collection of selected images, historical artifacts, audio clips, publications, and video.