Species Profile for Cave crayfish (Cambarus zophonastes)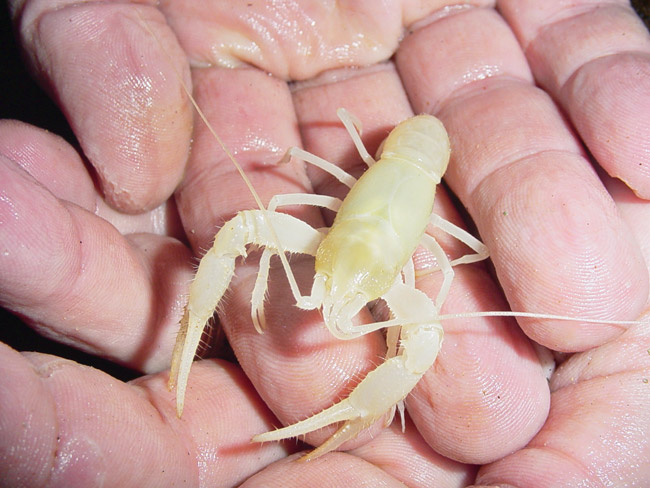 Cave crayfish (Cambarus zophonastes)
Listing Status:
Where Listed:
WHEREVER FOUND
General Information
C. zophonastes was first described from five specimens collected from Hell Creek Cave (Hobbs and Bedinger 1964). This cave crayfish is stygobitic, lacks pigment and eyes, and has an overall body length reaching 2.5 to 3.0 inches.
States/US Territories in which the Cave crayfish, Wherever found is known to or is believed to occur: Arkansas
US Counties in which the Cave crayfish, Wherever found is known to or is believed to occur: View All
Countries in which the the Cave crayfish, Wherever found is known to occur: United States
» Federal Register Documents
» Recovery
» Critical Habitat
No critical habitat rules have been published for the Cave crayfish.
» Conservation Plans
No conservation plans have been created for Cave crayfish.
» Petitions
» Life History
Habitat Requirements
C. zophonastes are found on muddy stream bottoms, cave stream walls, and other in-stream habitats. Specific habitat preferences have not been studied and are not readily apparent to trained observers. Individuals demonstrate no response to light or observation; however once attempts are made to capture the crayfish, they quickly recognize the threat and attempt to avoid capture.
Movement / Home Range
Little is known about movement of C. zophanastes within groundwater systems. The species is known from Hell Creek Cave, Nesbitt Spring, and Town Branch Creek System (Yellville, AR).
Reproductive Strategy
An ovigerous (egg bearing) female was discovered in Hell Creek Cave suggesting reproduction occurs in the late winter and spring months with higher water levels and nutrient inputs triggering reproduction (Smith 1984).
Other
C. zophonastes' biology and life history are not understood with no data available regarding life span, fecundity, egg and fry survival, or other aspects of the species' ecology. Work on cave crayfish in Florida suggest life spans of 40 years or more (Hobbs pers. comm.), although no work has been conducted on C. zophonastes to determine its life span.
» Other Resources
NatureServe Explorer Species Reports -- NatureServe Explorer is a source for authoritative conservation information on more than 50,000 plants, animals and ecological communtities of the U.S and Canada. NatureServe Explorer provides in-depth information on rare and endangered species, but includes common plants and animals too. NatureServe Explorer is a product of NatureServe in collaboration with the Natural Heritage Network.
ITIS Reports -- ITIS (the Integrated Taxonomic Information System) is a source for authoritative taxonomic information on plants, animals, fungi, and microbes of North America and the world.
FWS Digital Media Library -- The U.S. Fish and Wildlife Service's National Digital Library is a searchable collection of selected images, historical artifacts, audio clips, publications, and video.