Species Profile for Gentner's Fritillary (Fritillaria gentneri)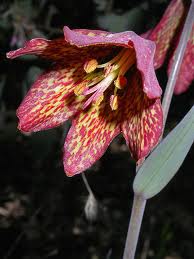 Gentner's Fritillary (Fritillaria gentneri)
Listing Status:
Where Listed:
WHEREVER FOUND
General Information
This plant is a perennial bulb-producing herb of the Liliaceae (lily family) with showy deep red to maroon flowers with yellow checkers. Individual flowering plants can reach up to 70 cm (28 inches) in height and produce green to purplish, lanceolate to linear leaves on the flowering stalks in whorls of 3 to 5. Non-flowering plants produce one 0.6 to 72-cm (0.24 to 28-inch) long fleshy, linear to oblong leaf. Plants without flowers cannot be identified to species level because leaves are indistinguishable from other Fritillaria spp. Stems support from 1 to 15 flowers. The flowers are 3.5 to 4 cm (1.47 to 1.6 inches) six-petaled, hang downward, and are trumpet-shaped, often with flaring tips. Plants occasionally produce a broadly winged fruit, which very rarely yield viable seed. The fritillary also produces a bulb which in turn produces numbers (50-100) of tiny "rice-grain" bulblets each year. ription available
States/US Territories in which the Gentner's Fritillary, Wherever found is known to or is believed to occur: California , Oregon
US Counties in which the Gentner's Fritillary, Wherever found is known to or is believed to occur: View All
» Federal Register Documents
» Recovery
» Critical Habitat
No critical habitat rules have been published for the Gentner's Fritillary.
» Conservation Plans
» Petitions
» Life History
No Life History information has been entered into this system for this species.
» Other Resources
NatureServe Explorer Species Reports -- NatureServe Explorer is a source for authoritative conservation information on more than 50,000 plants, animals and ecological communtities of the U.S and Canada. NatureServe Explorer provides in-depth information on rare and endangered species, but includes common plants and animals too. NatureServe Explorer is a product of NatureServe in collaboration with the Natural Heritage Network.
ITIS Reports -- ITIS (the Integrated Taxonomic Information System) is a source for authoritative taxonomic information on plants, animals, fungi, and microbes of North America and the world.
FWS Digital Media Library -- The U.S. Fish and Wildlife Service's National Digital Library is a searchable collection of selected images, historical artifacts, audio clips, publications, and video.