Species Profile for Debeque phacelia (Phacelia submutica)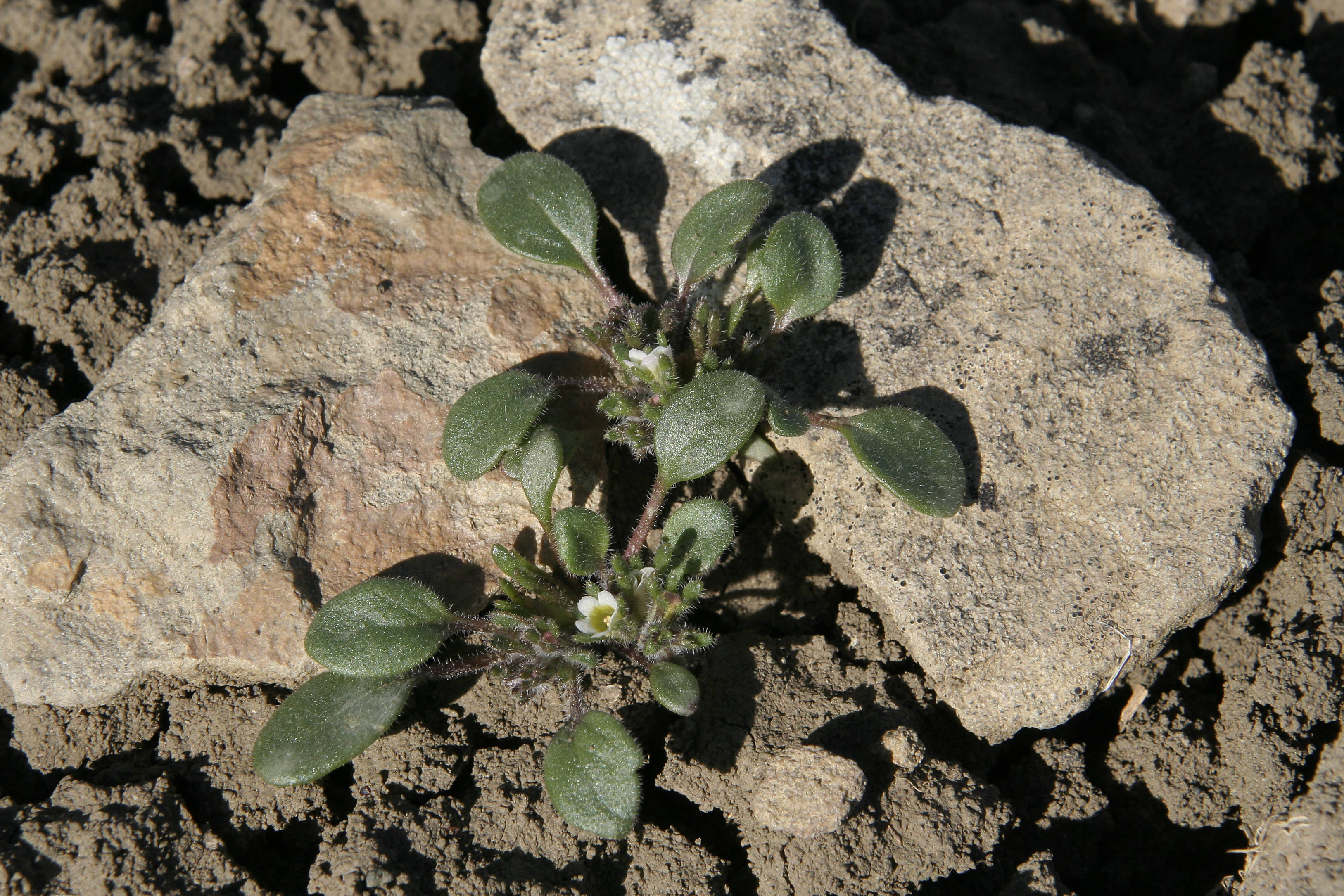 Debeque phacelia (Phacelia submutica)
Listing Status:
Where Listed:
WHEREVER FOUND
General Information
DeBeque phacelia is a low-growing, herbaceous, spring annual plant with a tap root. The stems are typically 0.8 to 3 in (2 to 8 cm) long, often branched at the base and mostly lying flat on the ground as a low rosette. Stems are often deep red and more or less hairy with straight and stiff hairs. Leaves are similarly hairy, reddish at maturity, 0.2 to 0.6 in (5 to 15 mm) long, egg-shaped or almost rectangular with rounded corners, with bases abruptly tapering to a wedge-shaped point. Leaf margins are smooth or toothed. The tube-shaped flowers are yellowish white, on short stems; the 5 petals are 0.16 to 0.19 in (4-5 mm) long; the stamens do not protrude beyond the petals. The elongated egg-shaped seeds are 0.6 to 0.8 in (1.5 to 2 mm) long with 6 to 12 crosswise corrugations, and are blackish brown and somewhat iridescent. DeBeque phacelia is subject to human-caused modifications from natural gas exploration and production with associated expansion of pipelines, roads, and utilities; development within the Westwide Energy Corridor; increased access to the habitat by off highway vehicles; soil and seed disturbance by livestock and other disturbances; and the inadequacy of existing regulatory mechanisms.
States/US Territories in which the Debeque phacelia, Wherever found is known to or is believed to occur: Colorado
US Counties in which the Debeque phacelia, Wherever found is known to or is believed to occur: View All
» Federal Register Documents
» Recovery
» Critical Habitat
To learn more about critical habitat please see http://ecos.fws.gov/crithab
» Conservation Plans
No conservation plans have been created for Debeque phacelia.
» Petitions
» Life History
Habitat Requirements
DeBeque phacelia is restricted to exposures of chocolate to purplish brown and dark charcoal gray alkaline clay soils derived from the Atwell Gulch and Shire members of the Wasatch Formation. These expansive clay soils are found on moderately steep slopes, benches, and ridge tops adjacent to valley floors of the southern Piceance Basin in Mesa and Garfield Counties, Colorado. On these slopes and soils, DeBeque phacelia usually grows only on one unique small spot of ground that shows a slightly different texture, color, and crack pattern than the similar surrounding soils. We do not have a precise scientific description of the soil features required to support this species. The natural shrink-swell cracking process creates the conditions needed for the plants and seed bank to thrive.
Movement / Home Range
DeBeque phacelia is a rare annual plant endemic to clay soils derived from the Atwell Gulch and Shire members of the Wasatch Formation in Mesa and Garfield Counties, Colorado. A general range encompassing outlying occurrences of DeBeque phacelia includes about 82,231 ac (34,896 ha). The growing town of DeBeque and about 10 mi (16.4 km) of Interstate 70 and the Colorado River bisect the speciesí range.
Reproductive Strategy
DeBeque phacelia plants flower between late April and late June and set seed from mid-May through late June. Individuals finish their life cycle by late June to early July, after which time they dry up and disintegrate or blow away, leaving no indication that the plants were present . The species grows in a habitat with wide temperature fluctuations, long drought periods, and erosive saline soils. Upon drying, cracks form in the shrink-swell clay soils. Seeds plant themselves by falling into the cracks that close when wetted, thus covering the seeds.
Other
DeBeque phacelia seeds can remain dormant for 5 years (and probably longer) until the combination and timing of temperature and precipitation are optimal for germination.
» Other Resources
NatureServe Explorer Species Reports -- NatureServe Explorer is a source for authoritative conservation information on more than 50,000 plants, animals and ecological communtities of the U.S and Canada. NatureServe Explorer provides in-depth information on rare and endangered species, but includes common plants and animals too. NatureServe Explorer is a product of NatureServe in collaboration with the Natural Heritage Network.
ITIS Reports -- ITIS (the Integrated Taxonomic Information System) is a source for authoritative taxonomic information on plants, animals, fungi, and microbes of North America and the world.
FWS Digital Media Library -- The U.S. Fish and Wildlife Service's National Digital Library is a searchable collection of selected images, historical artifacts, audio clips, publications, and video.