Species Profile for Penland alpine fen mustard (Eutrema penlandii)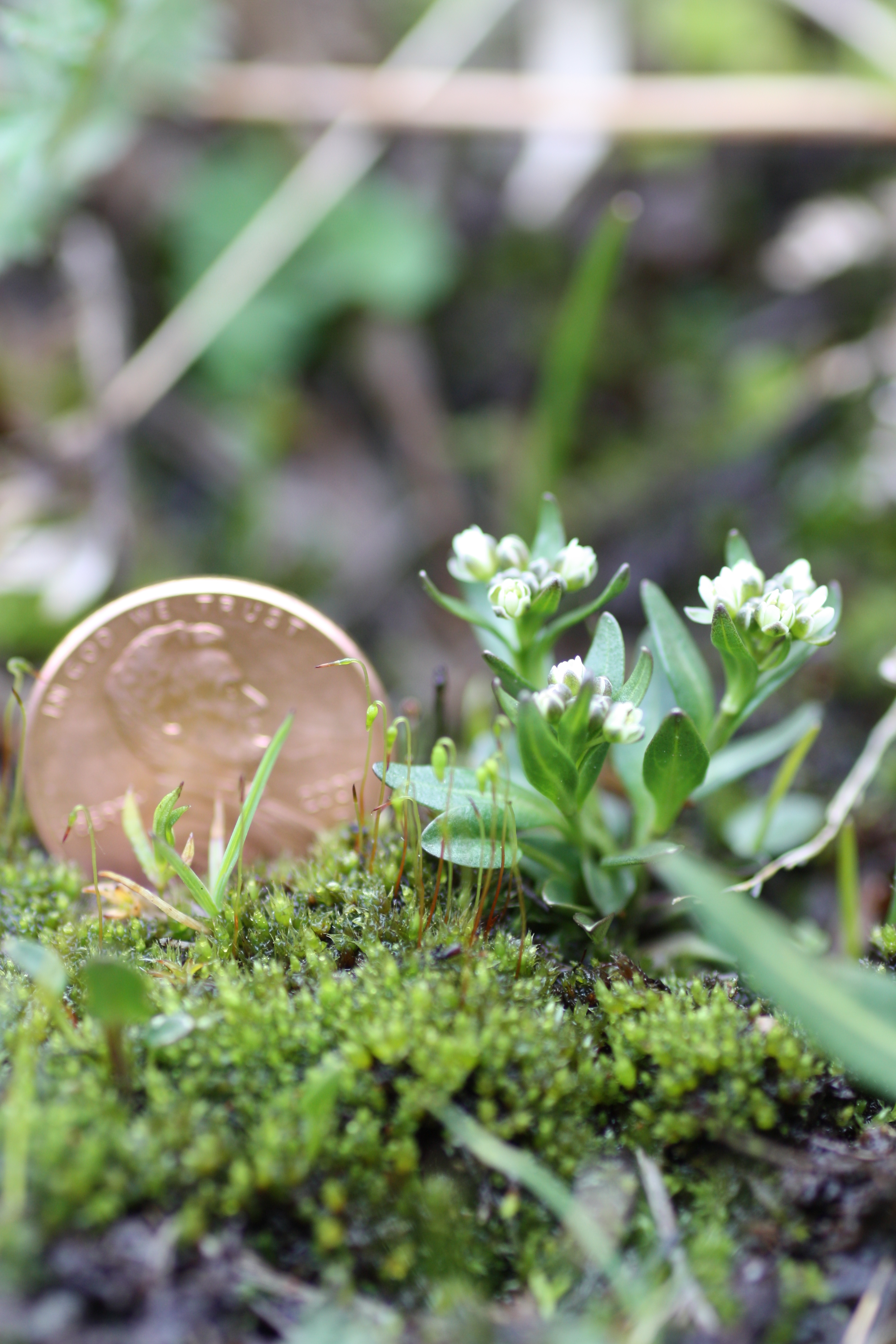 Penland alpine fen mustard (Eutrema penlandii)
Listing Status:
Where Listed:
WHEREVER FOUND
General Information
Mosquito Range mustard (also known as "Penland alpine fen mustard") is a small perennial plant species in the mustard family. Though the mustard family itself is large, Mosquito Range mustard is one of only two species within its genus (Eutrema) found in North America. During June through August, Mosquito Range mustard can be seen blooming; the clusters of white, four petalled flowers topping each stem. Leaves are shiny and oval along the stem but shovel-shaped at the base of the plant. Plant height ranges from 1/2 to 6 inches. Mosquito Range mustard was first collected near Hoosier Pass in 1935 by C. William T. Penland, a professor of botany at Colorado College. The species occurs only in alpine meadows at elevations above 11,800 feet in the Mosquito Range of the Rocky Mountains in central Colorado. Plants are most often found along east facing, gentle slopes and basins that are fed moisture by slow-melting snowfields above. However, they can also be found in dryer locations. In either habitat, they are often rooted in tufts of mosses or hidden among short-bladed grasses. This harsh alpine environment is also home to many other rare plant species known only to the Rocky Mountains. Mosquito Range mustard is threatened by activities that damage its sensitive habitat or alter local hydrology. Because of the Mosquito Range's spectacular views and scenery, it is a draw for recreation, especially in the summer months. Recreation activities such as off-road vehicle use (including winter travel), camping, hiking, and roads pose a great threat to Mosquito Range mustard and its habitat. Land development, including mining, also have an impact on the species. In addition, the effects of climate change are likely to endanger the survival of Mosquito Range mustard, as well as many other plant and animal species adapted to alpine ecosystems.
States/US Territories in which the Penland alpine fen mustard, Wherever found is known to or is believed to occur: Colorado
US Counties in which the Penland alpine fen mustard, Wherever found is known to or is believed to occur: View All
» Federal Register Documents
» Recovery
» Critical Habitat
No critical habitat rules have been published for the Penland alpine fen mustard.
» Conservation Plans
No conservation plans have been created for Penland alpine fen mustard.
» Petitions
» Life History
Habitat Requirements
Mosquito Range mustard is found in constantly moist areas dominated by moss species (fens). These fens are fed by perennial snowbeds. Snowbeds accumulate on the leeward (downwind) side of ridges and Mosquito Range mustard is generally located below these sites. Geological formations where Mosquito Range mustard are found include the Minturn Formation (sandstone, shale, and scattered carbonated), the Belden Formation (shale, carbonated, and standstone), Leadville Dolomite, the Maroon Formation (sandstone, mudstone, and conglomerate), and intrusive porphyries .
Movement / Home Range
Mosquito Range mustard is known from Lake, Park, and Summit counties in Colorado. The plant is found only in the Mosquito Range at elevations ranging from 3,625 to 4,050 meters (11,900 to 13,280 feet). The species is known from 9 populations (if separated by 1.6 kilometers (1 mile) and an area measuring 18 kilometers (11 miles) from north to south as well as east to west.
Reproductive Strategy
Mosquito Range mustard flowering occurs from June into August, depending on snow-melt. Fruits mature from late-July into August and possible September. We are unsure how many seeds are in each seed pod or when seed pods split to release seeds. Mosquito Range mustard reproduces only by seed, with no means of vegetative reproduction (spread by vegetative growth). Little is known about reproduction, pollinators, or seed dispersal.
Other
The author of the Colorado Flora considers Mosquito Range mustard (E. penlandii) to be a variety of E.edwardsii, hence the synonym E. edwardsii var. penlandii. Mosquito Range mustard was recently synonymized with E. edwardsii in the Flora of North America's. In contrast, another study has found Mosquito Range mustard and E. edwardsii to be distinct from one another based on novel alleles, genetic diversity patterns, differences in morphology (morphometric measurements), and chromosome counts. Further research is underway that will provide a more comprehensive overview of the relationship between Mosquito Range mustard and E. edwardsii.
» Other Resources
NatureServe Explorer Species Reports -- NatureServe Explorer is a source for authoritative conservation information on more than 50,000 plants, animals and ecological communtities of the U.S and Canada. NatureServe Explorer provides in-depth information on rare and endangered species, but includes common plants and animals too. NatureServe Explorer is a product of NatureServe in collaboration with the Natural Heritage Network.
ITIS Reports -- ITIS (the Integrated Taxonomic Information System) is a source for authoritative taxonomic information on plants, animals, fungi, and microbes of North America and the world.
FWS Digital Media Library -- The U.S. Fish and Wildlife Service's National Digital Library is a searchable collection of selected images, historical artifacts, audio clips, publications, and video.