Species Profile for Clay phacelia (Phacelia argillacea)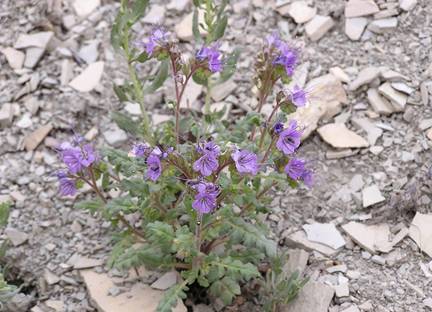 Clay phacelia (Phacelia argillacea)
Listing Status:
Where Listed:
WHEREVER FOUND
General Information
Clay phacelia has blue to violet flowers and stands 4-14 inches (1-3.6 decimeters (dm)) tall. Germination occurs in late summer and early autumn, and basal rosettes form in October. Clay phacelia was formerly considered a winter annual but new data supports the idea that Clay phacelia is instead a true biennial (Meyer 2011). The life history of a biennial includes seedling emergence in the spring, growth of a rosette in the summer, vernalization during the following winter, and flowering, seed set, and death the second summer (Meyer 2011).
States/US Territories in which the Clay phacelia, Wherever found is known to or is believed to occur: Utah
US Counties in which the Clay phacelia, Wherever found is known to or is believed to occur: View All
» Federal Register Documents
» Recovery
» Critical Habitat
No critical habitat rules have been published for the Clay phacelia.
» Conservation Plans
No conservation plans have been created for Clay phacelia.
» Petitions
» Life History
Habitat Requirements
This plant grows at elevations ranging from 6,000-7,000 feet (1,830-2,135 m). Clay phacelia is found on steep hillsides of shaley clay colluvium on an extremely limited band of soil derived from an upper member of the Green River geologic formation called Green River Shale in Utah County, Utah (USFWS 1994). Populations of the species grow on different soil types along the railroad that bisects the habitat. The plants east of the railroad grow mainly on a finely- textured clay derived from a poorly consolidated shale member of the formation. Those from west of the railroad grow on a platey slope. Occupied soils averaged about 1/3 clay, 1/3 silt, and 1/3 sand, and are generally covered with pebble fragments or flat slabs of lithified shale (Armstrong 1992). All soils where Clay phacelia occurs are basic, with pH ranging from 7.7- 7.9 for the occupied sites (Armstrong 1992). Concentrations of boron, zinc, manganese, and magnesium were higher at sites occupied by Clay phacelia than at unoccupied sites. Concentrations of sodium were higher at unoccupied sites than at occupied sites, suggesting an aversion to high salt soils (Armstrong 1992). Occupied sites are xeric due to the steepness of the slopes and southeast- to west-facing aspects. Most precipitation is in the form of snowfall during the winter months and spring rains through April of each year (Armstrong 1992).
Reproductive Strategy
Germination for Clay phacelia takes place in late summer or early autumn, stimulated by late summer or early autumn storms. Initial foliage leaves are small, but by early to mid-October they have formed into basal rosettes from 0.4 to 2.8 inches (1 to 7 centimeters (cm)) in width. Rosettes grow slowly under the snow, and bolt only after the snow melts the soil and air temperatures increase significantly in May (Service 1982). The first of the seasonís flowers begin opening by late May, and full blooming is reached in late June or early July. Plant size appears to be a function of available soil moisture. As the size of the plant increases, the number of flowers displayed becomes greater. Spring and summer precipitation is necessary to allow plants to continue flowering through the summer and into autumn, with the last of the seasonís flowers observed in mid-October (Service 1982). Clay phacelia has the capacity of developing four mature seeds per fruit and can be a very prolific seeder (Bellagamba 2000). Pollination studies on the breeding system of the plants suggest the plants are obligate outcrossers (Smith et al. 1989) that require insect pollinators. Observations suggest that Clay phacelia is most likely not pollinator limited (Tepedino 2000). The following native bee species may be Clay phacelia pollinators: Dialictus perdifficilis, D. sedi, Evylaeus pulveris, Andrena walleye, A. pronorum and Halictus rubicundus (USFWS 1994; Tepedino 2000). These species are small to medium-sized, mostly solitary bees (Bartlett et al. 2008; DiTerlizzi et al. 2008) and have been seen in the vicinity of Clay phacelia.
Other
Associated vegetation includes sparse pinyon-juniper or mountain brush communities (Armstrong 1992, USDA 1999). Associated species include the yellow-flowered buckwheat (Eriogonum brevicaule), Amelanchier alnifolia (Nutt.) Nutt. (serviceberry), Quercus gambelii Nutt. (Gambel oak), Stipa hymenoides (Indian ricegrass), and houndstongue (Cynoglossum officinale). Clay phacelia does not do well in competition with other vegetation, and the actively eroding shale slopes where this species occurs likely discourages competitors (Aanderud and Harper 1997; USDA 1999). Additional associated vegetative cover include sparse stands of pinyon-juniper (Pinus edulis-Juniperus osteosperma) or mountain brush (Amelanchier alnifolia-Cercocarpus montanus-Rhus aromatica) (Armstrong 1992).
» Other Resources
NatureServe Explorer Species Reports -- NatureServe Explorer is a source for authoritative conservation information on more than 50,000 plants, animals and ecological communtities of the U.S and Canada. NatureServe Explorer provides in-depth information on rare and endangered species, but includes common plants and animals too. NatureServe Explorer is a product of NatureServe in collaboration with the Natural Heritage Network.
ITIS Reports -- ITIS (the Integrated Taxonomic Information System) is a source for authoritative taxonomic information on plants, animals, fungi, and microbes of North America and the world.
FWS Digital Media Library -- The U.S. Fish and Wildlife Service's National Digital Library is a searchable collection of selected images, historical artifacts, audio clips, publications, and video.