Species Profile for Dudley Bluffs bladderpod (Lesquerella congesta)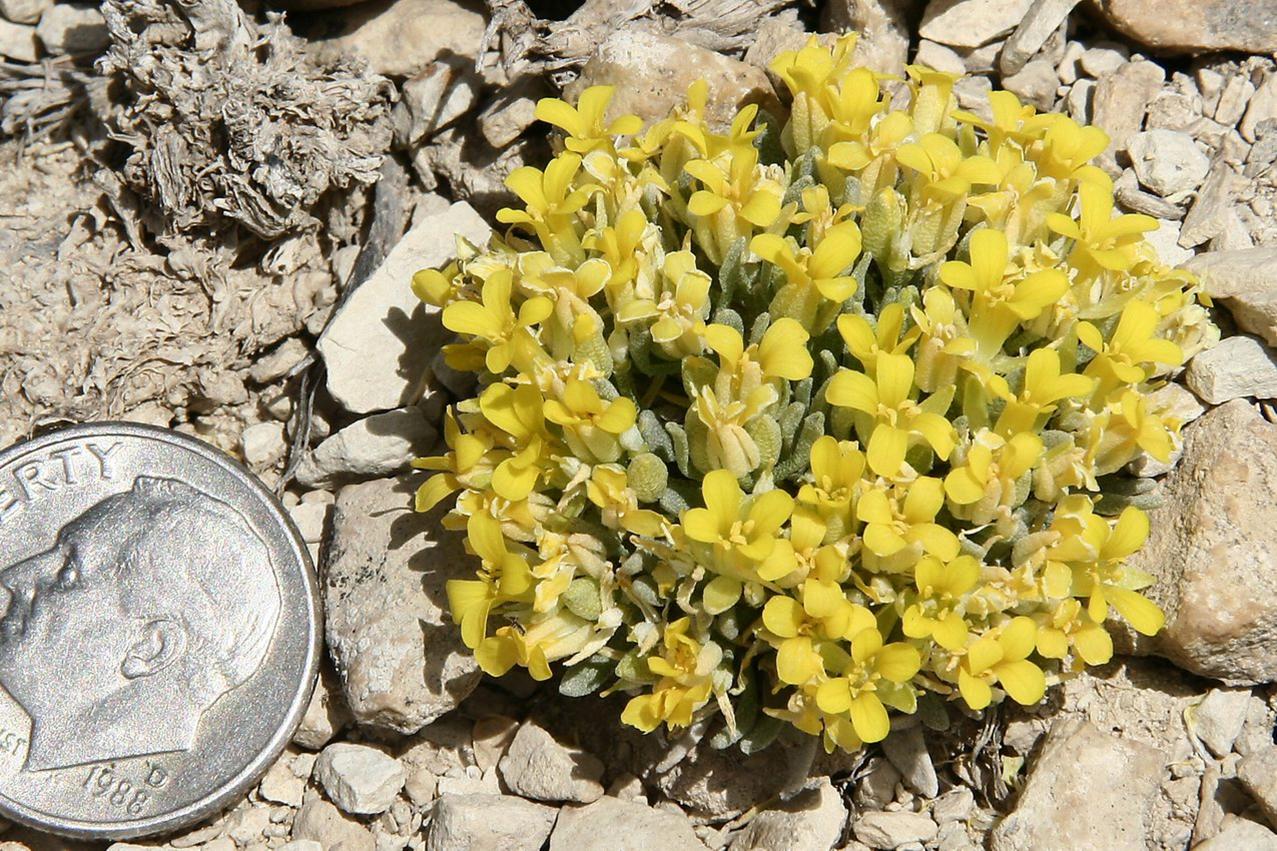 Dudley Bluffs bladderpod (Lesquerella congesta)
Listing Status:
Where Listed:
WHEREVER FOUND
General Information
Dudley Bluffs bladderpod (Physaria congesta, was Lesquerella congesta) is a herbaceous (non-woody) plant species in the mustard family (Brassicaceae). It is an extremely small cushion plant growing only 1 to 3 cm (0.4 to 1.2 inches) in diameter. It has small silvery leaves clustered at the base and attached to a large woody taproot. In late April to late May the Dudley Bluffs bladderpod is easy to spot when its bright yellow flowers bloom. The rest of the year it is inconspicuous and may go unnoticed. Seeds are contained in small air-filled sacs, hence the common name "bladderpod." Dudley Bluffs bladderpod is only known to occur in the Piceance Creek area, of Rio Blanco County in western Colorado, near the town of Meeker. Dudley Bluffs bladderpod is located primarily within the Duck Creek drainage. Its known habitat is flat or low angled slopes of the Thirteenmile Creek and Yellow Creek tongues of the Green River Formation. These shale outcrops have little soil development and are very harsh for plant growth; only plants adapted to survive in these conditions may thrive. The unique geology of the Piceance Creek area is important to the Dudley Bluffs bladderpod (and many other endemic plant species). It is also part of the Piceance Basin's multimineral oil shale zone, an area containing large reserves of oil shale, natural gas, and minerals. Energy exploration, extraction, and the many associated activities in the region can disturb or degrade the fragile shale habitats. They can also pose a threat to native ground nesting bees that pollinate Dudley Bluffs bladderpod. Others threats include weed invasion and increased access to these remote areas by recreationists.
States/US Territories in which the Dudley Bluffs bladderpod, Wherever found is known to or is believed to occur: Colorado
US Counties in which the Dudley Bluffs bladderpod, Wherever found is known to or is believed to occur: View All
» Federal Register Documents
» Recovery
» Critical Habitat
No critical habitat rules have been published for the Dudley Bluffs bladderpod.
» Conservation Plans
No conservation plans have been created for Dudley Bluffs bladderpod.
» Petitions
» Life History
No Life History information has been entered into this system for this species.
» Other Resources
NatureServe Explorer Species Reports -- NatureServe Explorer is a source for authoritative conservation information on more than 50,000 plants, animals and ecological communtities of the U.S and Canada. NatureServe Explorer provides in-depth information on rare and endangered species, but includes common plants and animals too. NatureServe Explorer is a product of NatureServe in collaboration with the Natural Heritage Network.
ITIS Reports -- ITIS (the Integrated Taxonomic Information System) is a source for authoritative taxonomic information on plants, animals, fungi, and microbes of North America and the world.
FWS Digital Media Library -- The U.S. Fish and Wildlife Service's National Digital Library is a searchable collection of selected images, historical artifacts, audio clips, publications, and video.